Designed with 110 years of audio heritage to please the most discerning audiophile, the Denon PMA-A110 is the superior choice for listeners who want to build the 2-channel Hi-Fi system of their dreams. Powered by Denon's patented Advanced Ultra High Current (UHC) single-push-pull circuit power amplifier, the PMA-A110 integrated amplifier delivers 160 Watts of power-per-channel.
Easily connect both analogue and digital sources or your turntable to the built-in phono pre-amp. Listen to your favourite Hi-Res audio content through the Quad 384-kHz/32-bit DAC section with the highest resolution in audio quality. Paired perfectly with the DCD-A110, the PMA-A110 Integrated Amplifier was designed to upgrade your expectations with your music in mind.

DESIGNED WITH YOUR EXPECTATIONS IN MIND
Denon's new PMA-A110 was designed to exceed your expectations. With its limited edition Anniversary Series silver graphite colour, aluminium feet, double layer steel transformer plate, and new premium back panel and speaker panels, the PMA-A110 is specially crafted for the demanding audiophile. Designed and engineered with precision and refinement in mind, the PMA-A110 offers a defined audio experience.
High Power 160W Integrated Amplifier
Give your loudspeakers the power they deserve with the Denon PMA-A110 Integrated Amplifier. Engineered to exceed your expectations, the PMA-A110 offers 160 Watts of power-per-channel to always deliver precise and powerful sound. This integrated amplifier offers compatibility with the widest range of speaker types and impedances for exceptional operational stability.
Certificate of Authenticity and 5-Year Warranty
With your purchase of the limited-edition PMA-A110, you will receive a Certificate of Authenticity signed by Denon's Head of Engineering. You will receive a special, 5-year out-of-box warranty.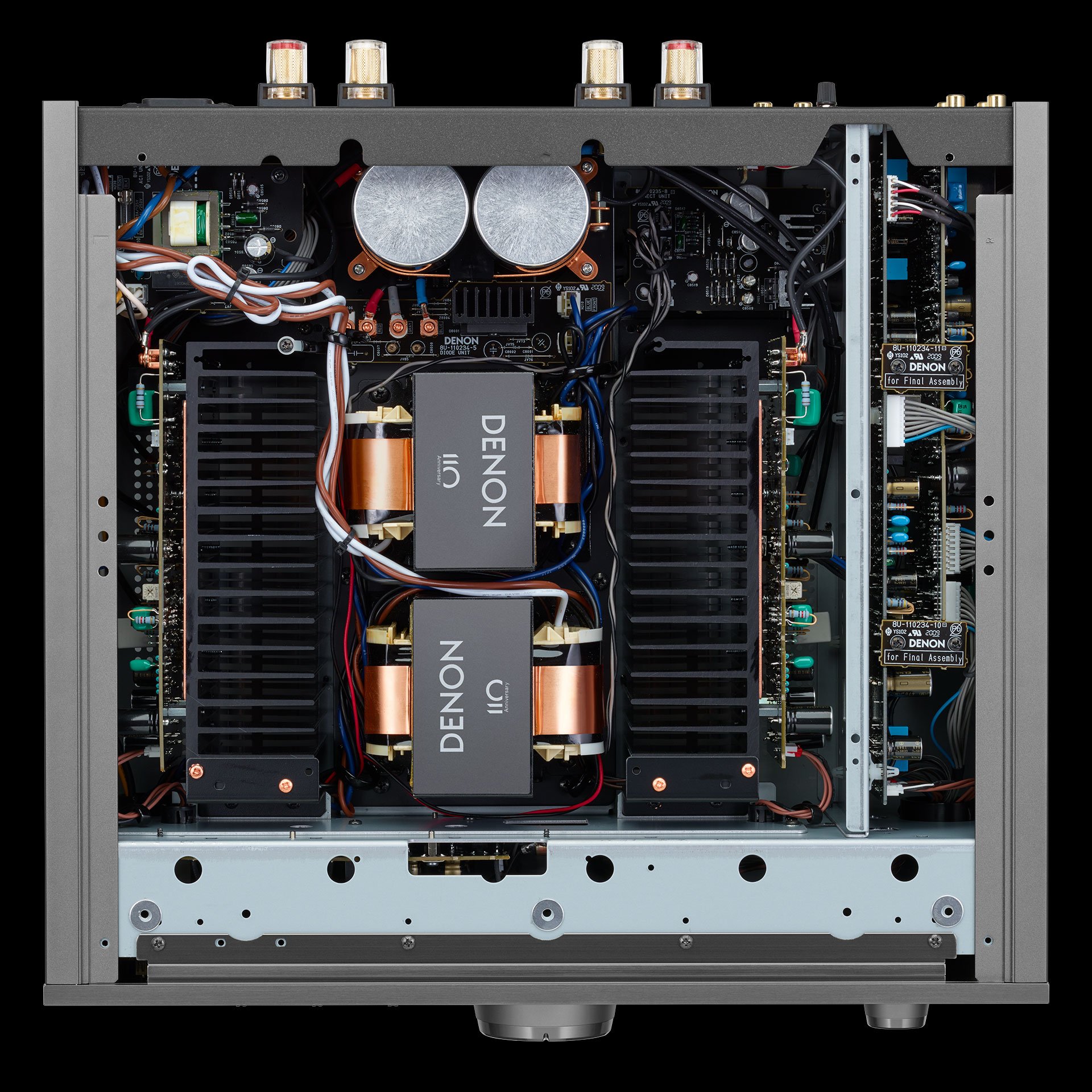 7th Generation Advanced Ultra High Current MOS Single Push-Pull Circuit
The PMA-A110 features a new generation of Advanced UHC (Ultra High Current)-MOS Single Push-Pull circuit design, which combines with a differential 2-stage amplifier circuit to drive almost any speaker configuration with improved sound quality. To achieve impeccable balance between delicate details of music reproduction and vigor of low frequency sound, the PMA-A110 is capable of delivering a massive current output in a single push-pull configuration to drive even the most demanding speaker and ensure superior linearity in the output stage.
High Precision Electrical Controls
The PMA-A110 embraces electrical volume, balance and tone controls while preserving the analogue feeling of operation. Clever engineering offers the feel of an analogue volume knob while an MCU measures the position of the knob and converts that position to control the master volume digitally. This unique mechanism offers a smoother, more linear control of the master volume by adjusting the curve of the analogue volume control in the digital world. The same configuration is also used for Balance and Tone controls.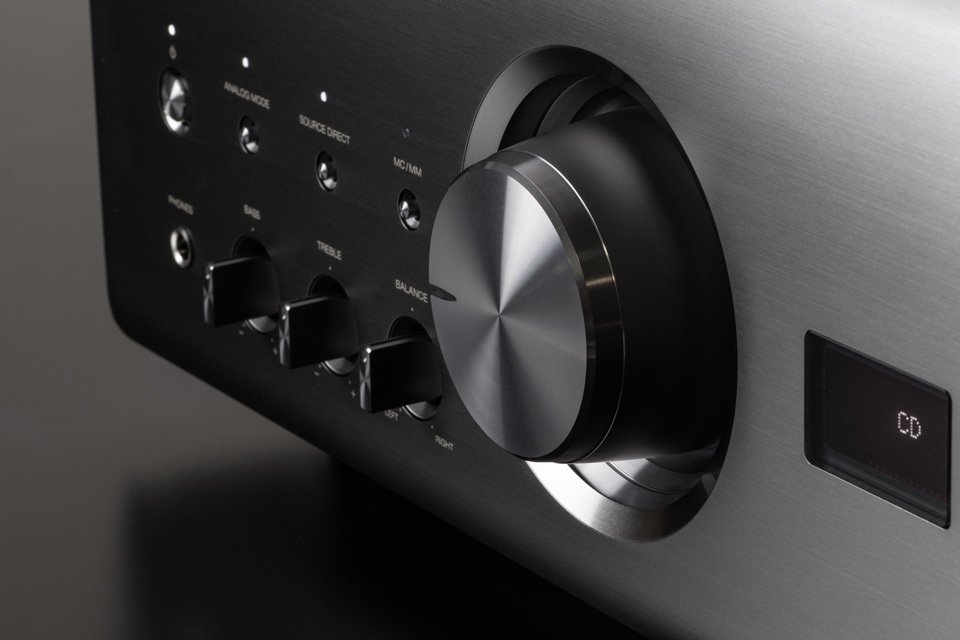 HIGH-GRADE AUDIO COMPONENTS
Denon engineers carefully constructed the amplifier circuit within the PMA-A110 to secure a frequency response of up to 100-kHz during applied use. The volume circuit suppresses noise in the amplifier, achieving high sonic resolution. The PMA-A110 handles a wide, dynamic range of Hi-Res audio sources with tone control and power throughout. In addition, the Quad D/A converter which uses the Burr Brown PCM1795, chip operates in a quadruple configuration for optimal high-grade sound. Each channel has two PCM1795 chips working in a different mode to achieve the highest accuracy and best signal to noise ratio.
USB-DAC       DAC MASTER CLOCK       DIGITAL ISOLATOR AND PURE MODE       POWER SUPPLY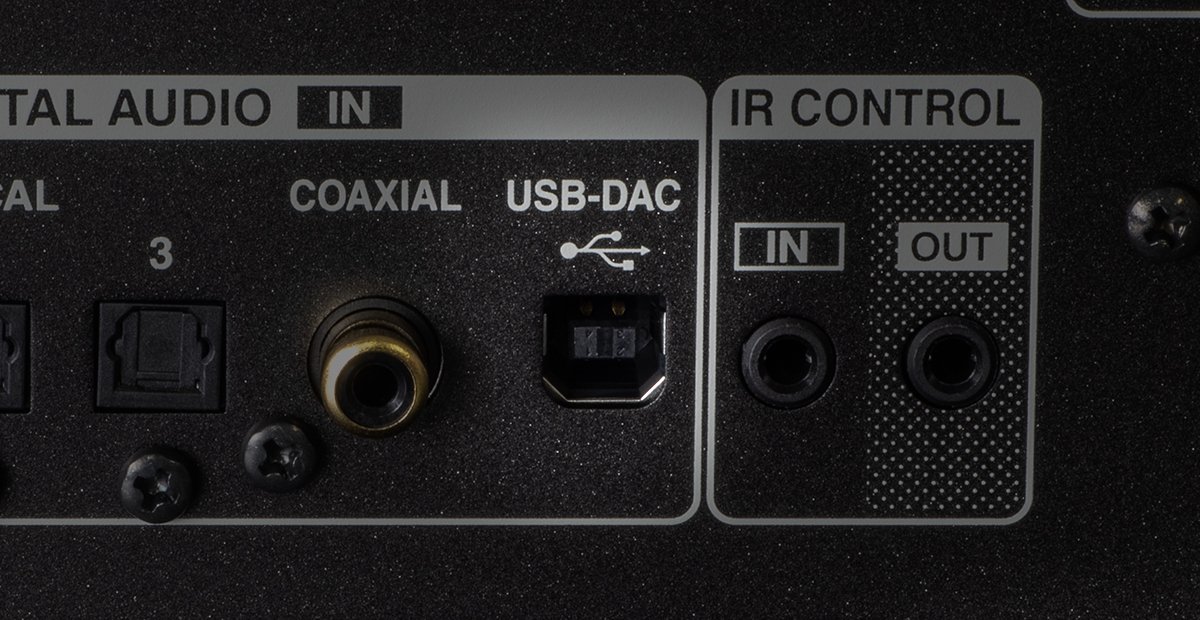 USB-DAC SUPPORTING 11.2-MHZ DSD AND 384-KHZ/32-BIT PCM
To accurately synchronise its digital circuits, the PMA-A110 provides a USB-DAC input for Hi-Res audio functions that support Hi-Res up to 11.2-MHz DSD and 384-kHz/32-bit PCM input signals. Crafted with exceptional quality, the DAC suppresses jitter and ensures optimal precision in D/A conversion. In addition, the DSD transmission methods support Wasapi, ASIO native playback and DSD Audio over PCM Frames (DoP). The D/A converter used in the PMA-A110 is the same 384-kHz/32-bit and DSD capable premium DAC used in the DCD-A110 to deliver a clean, high-grade sound.
USB-B, Optical and Coaxial Digital Inputs
The PMA-A110 features a USB-B input to directly connect a computer and supports PCM signal 384-kHz/32-bit and 11.2-MHz DSD. Use the USB-B input to listen to Hi-Res audio recording from an audio source on your computer in native mode. You can also take advantage of three Optical inputs and one Coaxial input which support PCM 192-kHz/24-bit. These digital inputs improve sound quality of your TV audio, Blu-ray, media players, and more.
TV Auto Standby (digital input)
The Optical and Coaxial digital inputs have an auto sensing mechanism that automatically turns on the unit when an audio signal is detected from an external source like your television.
HIGH-RESOLUTION AUDIO
ULTRA AL32       PHONO EQUALISER       PRE-AMP INPUTS       GOLD-PLATED TERMINALS       6-BLOCK CHASSIS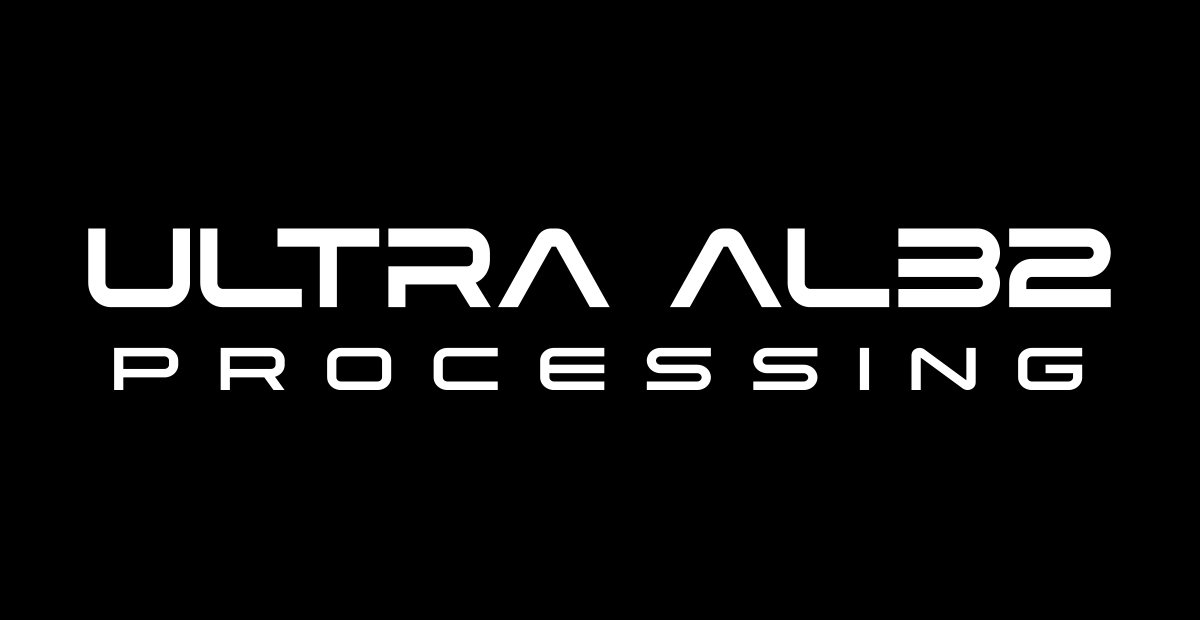 ULTRA AL32 PROCESSING WITH 384-KHZ/32-BIT SUPPORT
The PMA-A110 is equipped with Ultra AL32 Processing, the latest in analogue waveform reproduction technology from Denon. Ultra AL32 Processing utilises data interpolation algorithms and supports Hi-Res 192-kHz/24-bit PCM signal input. These algorithms interpolate points that should exist before and after the points in large quantities of data to achieve a smooth waveform that is close to that of the original signal.
These algorithms upsample the bandwidth from the original content, smoothing out the waveform and improving sound reproduction. Ultra AL32 Processing doubles the processing bandwidth from the previous generation upsampling 384-kHz content to 1.536-MHz. By carefully restoring data that was lost during digital recording, the resulting playback sound is highly detailed, free of interference, accurately localised, richly expressive in the lower range, and beautifully faithful to its original sound.