Modern Integrated Amplifier
The PM7000N is the first fully discrete, current feedback integrated Hi-Fi amplifier with HEOS Built-in technology for network music access from Marantz. It is the ideal choice for audio connoisseurs that require Marantz Musical sound with flexible operation and access to digital streaming music. The amplifier delivers a powerful 2x 60W into 8 ohm or 2 x 80W into 4 ohm (20Hz – 20kHz).
The Most Musical Sound
Engineered and extensively tuned by a team drawing on more than 65 years of Hi-Fi expertise, the Marantz PM7000N provides exceptional performance for your audio collection. Whether digital or analogue, enjoy the most musical sound from any source.
Fully Discrete Current Feedback Power Amplifier with HDAM-S3
Current Feedback amplification, a renowned Marantz-proprietary circuit technology, is thoughtfully designed to match the requirements of high resolution music for wide-bandwidth and high-speed audio reproduction. The impedance at the Current Feedback point is minimised, generating a very low ground potential. Marantz Current Feedback amplifiers reduce the need for phase compensation by minimising Negative Feedback (NFB). This simplifies the signal path and results in a high through-rate, excellent transient response and superb sonic transparency across the full bandwidth. Unlike conventional Voltage Feedback topology, Current Feedback renders the power amplifier nearly immune to difficult loudspeaker loads.
Marantz HDAM-SA3 Technology
Current Feedback amplification, a renowned Marantz-proprietary circuit technology, is thoughtfully designed to match the requirements of Super Audio Hi-res music for wide-bandwidth, high-speed reproduction
Marantz developed its own discrete circuit boards called Hyper-Dynamic Amplifier Modules, or HDAMs, to replace the chip-based amps used elsewhere. Using discrete surface mount components with short mirror-image left and right signal paths, HDAMs outperform the regular integrated Op-amps dramatically in Slew Rate and noise level. The result is much more dynamic, accurate and detailed sound. Over the years, Marantz developed different HDAMs to fit the particular requirements of each player and amplifier. The PM7000N uses the high-grade SA3 version.
High-Grade Sound Parts
Marantz has a steadfast reputation for choosing the best-possible components for its Hi-Fi products, and the PM7000N is built with that same performance-first Hi-Fi approach. Marantz engineers selected and optimised the Marantz PM7000N through extensive listening in dedicated Marantz facilities in Europe and Japan using Hi-Fi tuned sound parts.
Wide Range of Connectivity
The PM7000N is equipped with 4 analogue inputs and one analogue output, plus a high quality Phone MM equaliser and features one coaxial and two optical digital inputs, along with a USB-A input for high resolution audio files.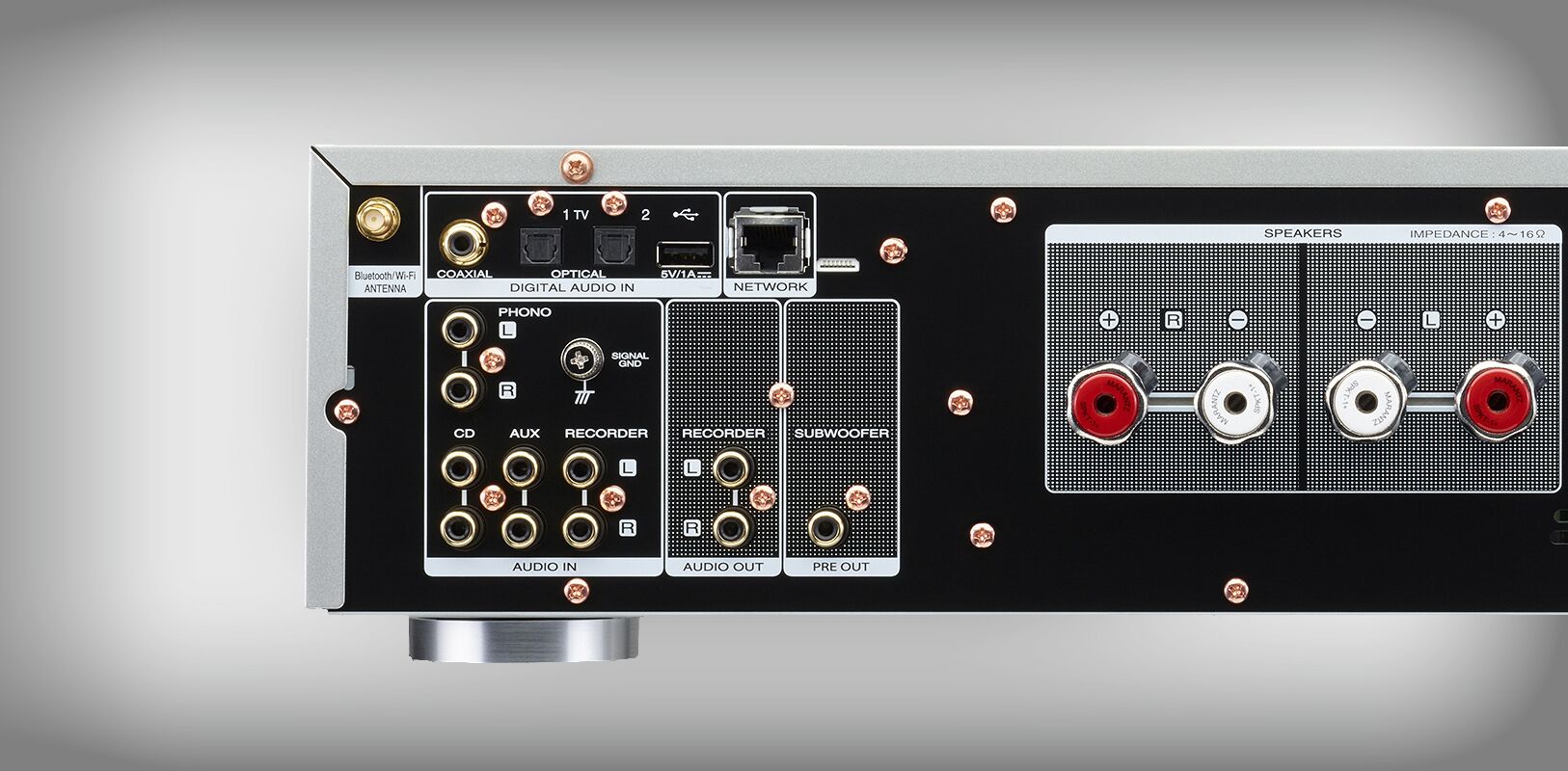 Hi-Res Audio Support
With the ability to decode hi-res audio ALAC, FLAC and WAV lossless files up to 24-bit/192-kHz, as well as DSD 2.8MHz and 5.6MHz tracks (the audiophile format of SACD), enjoy music exactly as the artist intended. Listen to your music via the rear panel USB port or over network sources.
Improved Integrated Phono Input
For a long time, Marantz integrated amplifiers have featured high-quality phono stages. The PM7000N remains faithful to that legacy while also introducing a new design — one that integrates a FET (field-effect transistors) in the input stage. This provides high input impedance, eliminates the need for AC coupling capacitors and simplifies the signal path, lowering distortion and noise vastly improving the signal purity overall.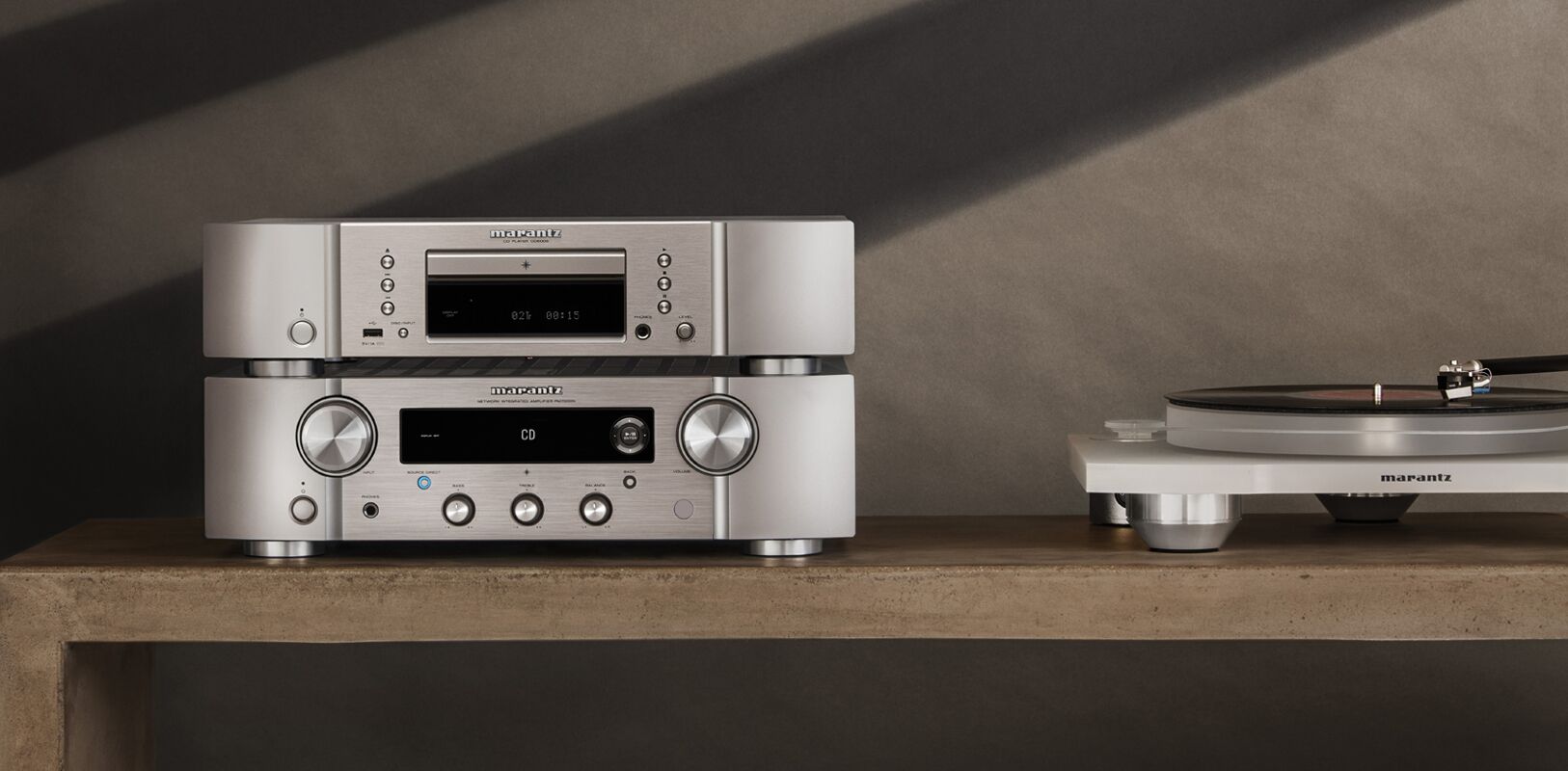 Subwoofer Output
Supports an optional external subwoofer with adjustable low pass crossover for low-frequency bass response within your listening environment. Enjoy accurate bass with no audible peaks or dips, no matter where you place your subwoofer.
High Quality, Original Marantz SPKT-1+ Speaker Terminals
The speaker terminals of the PM7000N are made of dense brass with a thick silver plating to provide best possible contact with speaker cables.
Shielded Digital Circuit
To preserve the analogue circuit from digital interferences or noise radiation, the digital circuit is installed into a shield case, preventing interference. The wireless digital boards can also be completely switched off independently using "Pure Modes" to avoid any interferences.
Source Direct Function
To ensure the shortest signal path and upmost fidelity, the PM7000N features Marantz Source Direct function, which bypasses the tone and balance control circuitry for a straight path, delivering elevated sound purity.
Toroidal Transformer
A Toroidal transformer offers several advantages that derive from its efficiency and power capability. The shape of it lends to low levels of electromagnetic radiation and mechanical vibration, producing improved sound quality over what you might experience with dated transformer models.
High Resolution OLED Display
A large OLED display provides detailed information on streamed music and makes browsing for content from online or USB easy.
HEOS Built-in
With HEOS Built-in technology, enjoy your favourite music in any room of your home for a wireless, whole-home audio experience. Play the same song in every room or select a different song for each connected room — the choice is yours. Enjoy music from Spotify Free or Premium, Amazon Music, Deezer, Tidal and more or your local music file libraries. With additional HEOS Built-in components, like HEOS-capable speakers, play all your music in one room or many.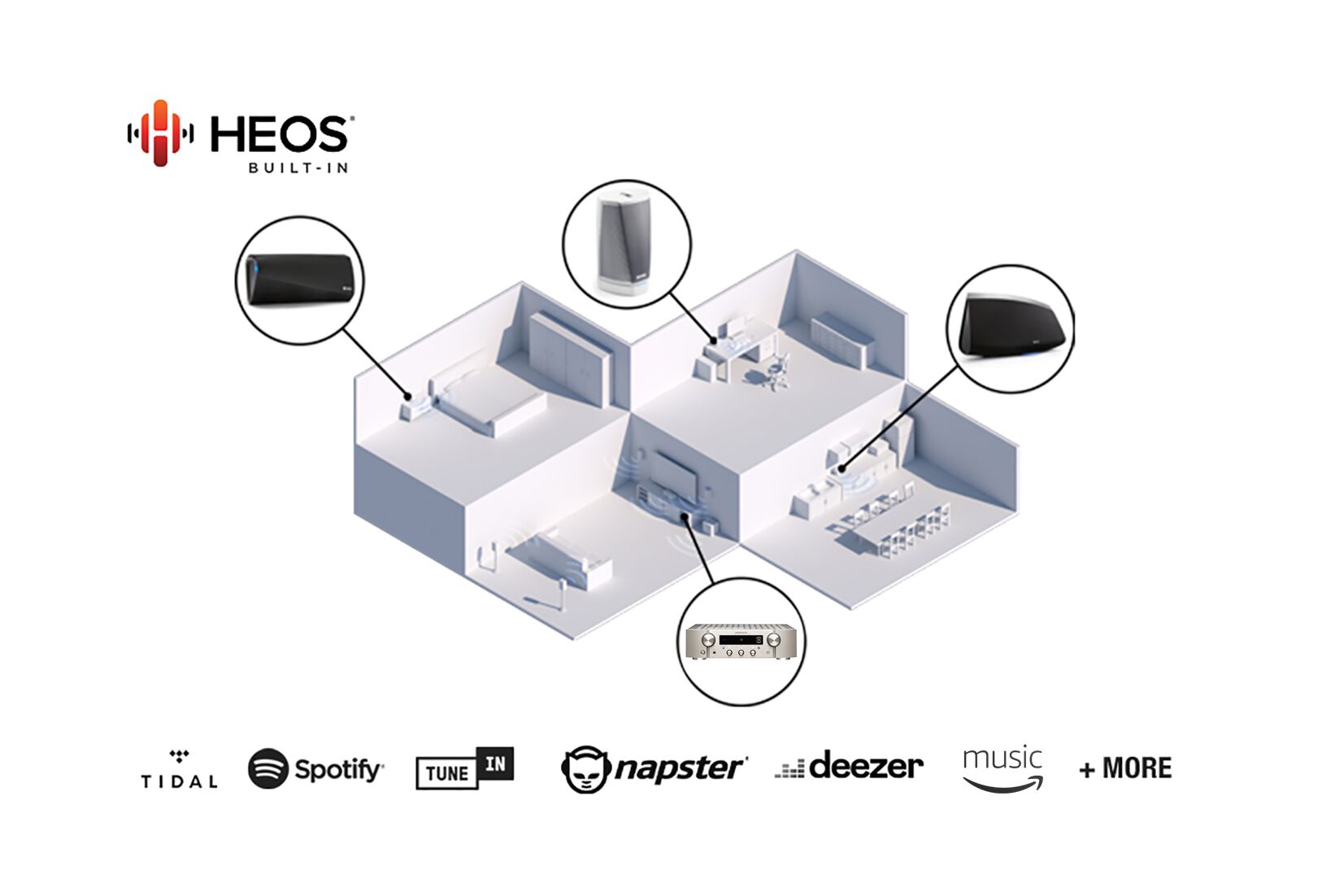 AirPlay 2 + Apple Siri Voice Control
Stream audio from your favourite music services like Apple Music and Spotify or watch videos from services like YouTube and Netflix from any iPhone, iPad, Mac or Apple TV. Hear the audio perfectly synced to your speakers from AirPlay 2 sources.
For multi-room audio, wirelessly stream content to multiple AirPlay 2 compatible devices simultaneously with improved audio buffering to ensure smooth audio playback. AirPlay 2 provides control and grouping of compatible audio devices within the Apple Music or Home app. Use AirPlay 2 in-app or with your voice via Siri.