ACCLAIMED LIFELIKE SOUND
Instant motivation
Bose Sport Earbuds make your music sound like the performer is right there beside you, pushing you to go one more mile or do one more rep. Our patented acoustic port design and premium, high-efficiency drivers combine to deliver big sound from a small acoustic package. Our signature Volume-optimised Active EQ automatically boosts the lows and highs so that music, videos and voices always sound balanced at any listening level. And our new StayHear™ Max tips create a tight seal with your ear canal—critical for hearing the deep low notes that add impact and emotion to your music and for blocking the ambient noise around you so you can focus on your music and your workout.
You move. They stay.
Bose Sport Earbuds come with three sizes of StayHear™ Max tips, so you can find the right fit for you. Every surface that touches your ear is made from soft silicone—not hard plastic—and by applying pressure evenly across your ear, the eartips avoid putting extra pressure on the most sensitive parts. Meanwhile, the unique umbrella-shaped tip and the extended flexible wing keep your Bose Sport Earbuds securely in place—without the need of an ear hook—no matter how much you shake your head or jump up and down.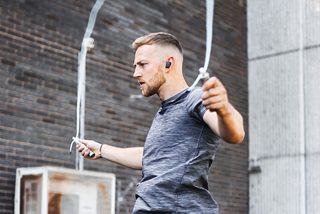 TRUE WIRELESS
No wires. No stopping you.
As true wireless Bluetooth® earbuds, Bose Sport Earbuds offer complete freedom of movement. As long as you're within 30 ft (9 m) of your device, you'll hear whatever it's playing. And with a custom-designed antenna hidden on the outside of each earbud, you'll stay connected.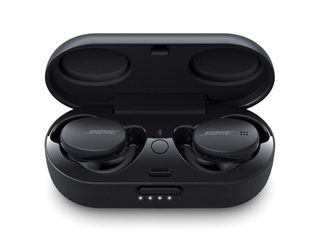 They won't quit before you do
Bose Sport Earbuds provide up to five hours of battery life per charge. They're charged by placing them in the included charging case. If the case is charged, it will automatically charge the earbuds. When it's fully charged, the case can provide two full charges for up to 10 more hours of use. And if your battery runs out when you're on the go, you can do a 15-minute quick charge for up to two hours of playback time.
Settings, updates, and more.
Bose Sport Earbuds connect to the free Bose Music app, which lets you name your earbuds, set the controls the way you like them, check your battery life, manage your Bluetooth connections and more. It's also how you get software updates with new features we're working on. Make sure you download it so you don't miss out.