Sony VPL-VW870ES 4K SXRD 4K Ultra HD Laser Projector
State Of The Art 4K Ultra HD Laser Projector, SXRD 4096 x 2160 Resolution
High Brightness & Contrast Ratio, HDMI 2.0 Compatible
Sony's All-Range Crisp Focus (ARC-F) All Glass Lens, Made In Japan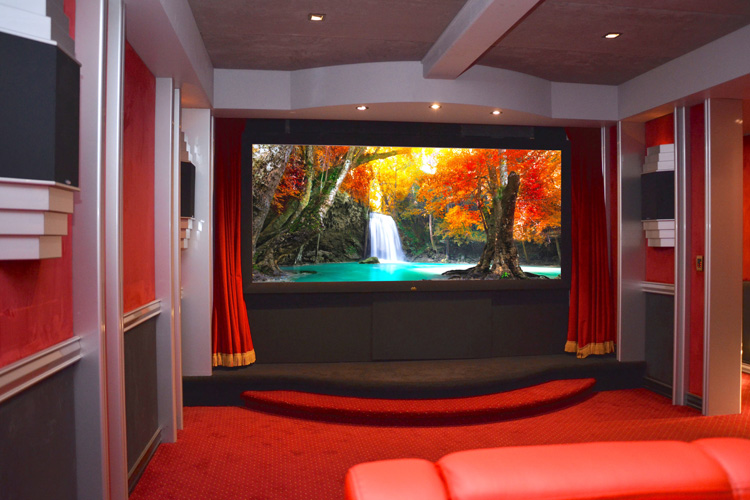 Sony's VPL-VW870ES SXRD 4K video projector (in black) uses a laser light source instead of a conventional lamp and showcases Sony's All-Range Crisp Focus (ARC-F) lens for the crispest picture possible.
Overview
This compact, native 4K resolution home projector uses a laser light source and is an ideal choice to fit in your home cinema room, the VPL-VW870ES brings movies to life with extraordinary cinematic detail, colour and contrast. This compact size home projector combines an advanced laser light source with the same Sony 4K SXRD panel technology that's found in our professional cinema projectors.
Crisply detailed native 4K images (4096 x 2160) offer four times the resolution of Full HD, pulling you right into the heart of the action with unprecedented clarity. An ARC-F lens is mounted on the VPL-VW870ES, expressing precise details in every corner of the screen.
You'll experience fabulously rich cinematic colours, smooth motion and spectacular contrast. Savour the action with 2,200 lumens brightness and see vibrant images. You're fully prepared with compatibility for the latest 4K standards, including High Frame Rates and HDR (High Dynamic Range) – so you'll get the very best out of today's content, and tomorrow's.
Features & Benefits
Watch Brightness For Longer With A Z-Phosphor™ Laser Light: The VPL-VW870ES uses an ultra-pure and reliable Z-Phosphor™ laser light source. This Sony developed light source offers bright images for up to 20,000 hours of uninterrupted operation – no lamp replacement, and virtually zero maintenance.
Native 4K SXRD™ Panel: Featured in Sony's digital cinema projectors, advanced SXRD (Silicon X-tal Reflective Display) panel technology delivers native 4K (4096 x 2160) resolution images, with more than four times the detail of Full HD. Fine details are wonderfully clear and natural, without jagged edges or visible pixels.
See Richer, Deeper Blacks: Latest SXRD 4K panels deliver even better contrast, as well as native 4K resolution. SXRD projection offers rich, inky blacks, as well as clear cinematic motion and image smoothness. Improvements to the panel's reflective silicon layer now mean even better light control, for precisely reproduced shadows and blacks.
Dual Contrast Control: In addition to the dynamically-controlled laser light output, an Advanced Iris is also incorporated. Both the iris control and laser can be adjusted independently, and dynamically, to optimise light output for both dark and bright well-lit scenes. The result is deeper blacks than ever, as well as bright, vibrant colours where needed. The infinite dynamic contrast makes every scene spring to life with detail and realism.
Corner-To-Corner Sharpness With The ARC-F Lens: For pristine image quality across the entire screen, the VPL-VW870ES features an All-Range Crisp Focus (ARC-F) lens. This large-aperture lens adopts an all-glass design for its 18 elements, including six extra low-dispersion (ELD) elements. This ensures optimal convergence of the red, green and blue primaries even at the extreme edges of the image for a clear and vivid image wherever you look.
Digital Focus Optimiser: Optimum focus is achieved, not only optically but digitally, by the Digital Focus Optimiser. It compensates the possible optical degradation of the lens in advance then outputs the optimum corrected images, so that even the focus in the corners is better than ever.
Super-Resolution Reality Creation: Exclusive Reality Creation technology analyses images right down to the pixel level. It uses powerful pattern-matching algorithms developed over years of movie production to enhance image crispness without increasing digital picture noise. It also upscales existing full HD Blu-ray Disc™ and DVD movies to near 4K quality.
HDR Compatibility: Every Image Comes To Life: Get the most from today's UHD Blu-ray and streaming services with High Dynamic Range. HDR video offers an expanded brightness range that delivers more realistic, high-contrast images and brilliant colours. Compatible with both HDR10 and HLG (Hybrid Log-Gamma) formats. Sony's home cinema projectors reproduce colour and contrast that's faithful to the creator's intention.
HDMI 18 Gbps Compatibility: With an increase in 4K HDR 60P content, the VPL-VW870ES is now HDMI 18 Gbps compatible for smoother expressions of gradations.
4K Motionflow™: The powerful video processor in the VPL-VW870ES offers Motionflow™ for smooth and clear motion, even when viewing 4K content. Motionflow adds frames to reduce blur, while maintaining brightness, making it ideal for fast-moving sports content. Cinema purists can choose True Theatre mode to retain the original 24fps.
2,200 Lumens For High Brightness: Enjoy the action with up to 2,200 lumens brightness from the laser light source, for vibrant images on screens.
Picture Position Memory Stores Your Settings: Store lens, zoom, and shift settings for up to five screen formats for easy recall. Picture Position Memory remembers key settings so you can quickly watch movies in the ideal format. Match aspect ratios, including 16:9 and Cinemascope, and store these settings in the projector.
Select From Nine Calibrated Picture Modes: Quickly set the picture to what you're watching or playing. Select from nine calibrated picture modes, including two theatre film modes, cinema digital, reference, TV, photo, game, bright cinema, and bright TV. An advanced HSV (Hue Saturation Value) colour tuning tool gives you even more control.
Our Take
Discover all the emotion of cinematic entertainment in true 4K HDR. Experience the cinema-quality entertainment you've always dreamed of. The beautifully styled VPL-VW870ES represents a new landmark in home cinema technology, achieving extraordinary levels of picture performance that you'd expect from a bigger, more costly projector. The long-lasting laser light source delivers a powerful 2,200 lumens output for exceptional images, even in larger home cinema rooms and well-lit living spaces. Laser light levels are precisely controlled in real time, assuring truly spectacular dynamic contrast range with the latest 4K HDR content.
So, the VPL-VW870ES is a smart choice for the serious movie watcher or for those who want one of the industry's best products.  By any standard it is a state-of-the-art home theatre projector and is as close as you can get to having a commercial product at home but for a fraction of the price. The three SXRD image chips, one each for red, green, and blue, produce extraordinarily rich, saturated colours that are truly delightful.
The VPL-VW870ES is not the first 4K projector we've carried but it is currently the absolute last word in 4K Ultra HD Projectors and currently represents the very state of the art in projected images for your home. In other words, it doesn't get any better than this. So, if your wallet's deep enough, the VPL-VW870ES is THE projector of choice if it's the absolute best you're after. Enough said …
P.S. Calibration, Screen & Installation: We can install and calibrate the VPL-VW870ES anywhere in Australia (fees apply) to ISF standards. With a projector at this standard we recommend Stewart Screens. Call one of our dedicated Projector Specialists – Mark Hales, Simon Finch or Simon Lee – to discuss your options.

Display System: 4K SXRD panel, projection system
Display device

Size of effective display area: 0.74" x 3
Number of pixels: 26,542,080 (4096 x 2160 x 3) pixels

Projection lens

Focus: Powered
Zoom: Powered

Lens shift:

VPLL-Z7013 (Bundled): Powered V ± 80%, H ± 31%
VPLL-Z7008 (Optional): Powered V ± 50%, H ± 18%

Throw ratio:

VPLL-Z7013 (Bundled): 1.27 to 2.73:1
VPLL-Z7008 (Optional): 0.8:1 to 1.02:1

Light source: Laser diode
Light output: 2,200 lumens
Colour light output: 2,200 lumens
Dynamic contrast: ∞:1
Displayable scanning frequency

Horizontal: 19 kHz to 72 kHz
Vertical: 48 Hz to 92 Hz

Display resolution

Computer signal input: Maximum display resolution: 1920 x 1080 dots (HDMI Input only)
Video signal input: 480/60p, 576/50p, 720/60p, 720/50p, 1080/60 i, 1080/50 i, 1080/60p,1080/50p, 1080/24p, 3840 x 2160/24p, 3840 x 2160/25p, 3840 x 2160/30p, 3840 x 2160/50p, 3840 x 2160/60p, 4096 x 2160/24p, 4096 x 2160/25p, 4096 x 2160/30p, 4096 x 2160/50p, 4096 x 2160/60p

OSD language: 18-languages (English, Dutch, French, Italian, German, Spanish, Portuguese, Turkish, Russian, Swedish, Norwegian, Japanese, Simplified Chinese, Traditional Chinese, Korean, Thai, Arabic, Polish)
Input Output (Computer / Video / Control)

HDMI1/HDMI2: Digital (RGB/Y Pb/Cb Pr/Cr)
Trigger: Minijack, DC 12 V Max. 100 mA
Remote: RS-232C, D-sub 9-pin (male)
LAN: RJ45, 10Base-T/100BASE-TX
IR In: Mini Jack
USB: DC 5 V, Max. 500 mA

Acoustic noise: 24 dB
Operating temperature / Operating humidity: 5°C to 35°C / 20% to 80% (no condensation)
Storage temperature / Storage humidity: -10°C to +60°C / 20% to 80% (no condensation)
Power consumption

Power consumption: 490 Watts
Standby: 0.4 W (when "Remote Start" is set to "Off")
Networked Standby: 1.0W (LAN) (when "Remote Start" is set to "On"); When a LAN terminal is not connected, it becomes a low power consumption mode (0.5 W)

Standby Mode / Networked Standby Mode Activated: After about 10 Minutes
Power Cord: Detachable IEC – Upgrade to Isotek for better performance
3D

3D capability: Yes
3D emitter: Built-in RD emitter
3D glasses: TDG-BT500A (Optional)

Supplied accessories

RM-PJ24 Remote Commander (1)
Size AA (R6) Manganese Batteries (2)
Lens Cap (1)
AC Power Cord (1)
Operating Instructions (CD-ROM) (1)
Quick Reference Manual (1)

Optional accessories

TDG-BT500A (3D glasses)
VPLL-Z7008 (Short Throw Lens)

Dimensions (WxHxD): 560 x 223 x 496 mm
Weight: 22 kg
Manufacturer's Warranty: 3 years parts & labour. Service is back to base and not done in the home.
Note: Features & Specifications Subject To Change Without Notice. E&OE