The Klipsch R-51PM powered monitors deliver room-filling sound without taking up much space. This highly efficient, powerful yet minimalist speaker engulfs listeners in their favourite movies and music. Forget the expense, clutter and hassle of an external A/V receiver. The R-51PM monitors incorporate individual ultra-low noise amplifiers custom designed to maximise system performance and eliminate the need for external amplification. With an integrated phono preamp, Bluetooth® wireless technology, digital optical, analog RCA and USB inputs, your R-51PM is the best performing, most versatile monitor on the planet.
Connect to Everything
Whatever the source for music or video content, chances are the R-51PMs are going to be able to direct connect with the proper cabling. The integrated phono pre-amp, Bluetooth® wireless technology, digital optical, analog RCA and USB inputs, makes the R-51PM your new best friend, connecting seamlessly to turntables, televisions, cell phones and computers.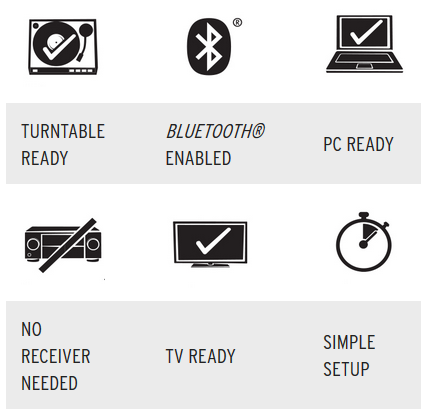 No Amplifier Needed
All of the R-15PM's connectivity and amplification is built into the speakers. That's right. There's no need for a clunky, old stereo amplifier. Plug and play. The onboard amplifier is custom-engineered just for these high-performance speakers, maximising output and sound quality.
Built-In Phono Pre-Amp
We mentioned this above, but this really is a killer feature for all of you looking to get back into the vinyl game. There's no need for an amplifier or receiver, plus you won't need a separate phono pre-amp to connect to your turntable. You can directly plug a turntable into your R-51PMs.
Two Speakers Are Better Than One
We don't really need to say more…but we will anyway. There are a couple of reasons why you are better off with a true stereo system like the R-51PM rather than an all-in-one solution.
The first reason should be obvious – stereo separation. By having the speakers apart and playing in true stereo, it opens up the spatial reproduction of the tracks, the way the recording engineer intended.
Secondly, turntables are quite sensitive to vibrations. That means that you don't want to have you speakers too close by. Otherwise, you are looking at extreme distortion, which could potentially damage your turntable and/or speakers.
Reference Performance
Every speaker company out there talks about sound quality. At Klipsch, we actually mean it. Put these bad boys up against any of the competition and we're confident we'll come out the victors.
Each monitor has a 1″ aluminum diaphragm compression driver mated to a 90° x 90° square Tractrix Horn and 5.25″ copper spun magnetically shielded IMG woofer. In layman's terms: these speakers have the chops to make your music rock and movies rumble.
Do you like a little more "oomph"? Well, you can add just about any Klipsch subwoofer to your R-51PM setup. Boom.
These truly aren't the typical bookshelf speakers. These are the ultimate power players. Connect the R-51PM powered monitors to just about anything, set them up in minutes and kick-back while they deliver room-filling sound.