DALI OBERON is a breakthrough
It's the first entry-level loudspeaker to incorporate DALI's patented SMC technology, drastically reducing non-linear magnetic distortion – so you can hear your favourite music like you've never heard it before.
With new oversized tweeters, wide-dispersion wood-fibre woofers and striking Danish cabinet design, DALI OBERON sets a new benchmark for affordable audiophile speakers. It's time to rediscover the magic of music.
With the launch of the DALI OBERON loudspeaker series, we have picked the best elements from our current speakers and brought them together in a series that delivers on audio quality, looks and versatility.
This large floor-standing three-way OBERON 9 features one 7″ and two 9" wood fibre woofers – all three based on SMC. Supported by an oversized 29 mm ultra-lightweight soft dome tweeter.
This, combined with the large but elegant cabinet, delivers the very best in deep bass and large room performance. Despite its size, this speaker is surprisingly delicate and will impress with its ability to render any music style naturally and lifelike even at lower volumes. This makes the OBERON 9 perfect for any music or movie style.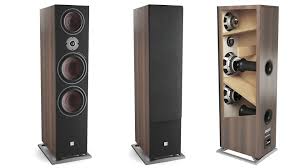 Despite its site, we have made it easy to integrate the OBERON 9 into any room. Both the driver materials and geometry applied in the speaker has been selected to achieve a wide dispersion pattern in the listening area. The same principles have been applied in the design of the crossover.
As result, you will experience a well-integrated sound, even when listening at a significant off-axis angle. This is important as you are rarely seated directly in front of your loudspeakers when listening to music. An added benefit is seriously reduced harmonic distortion and diffractions causing frequency distortion, as these will always be stronger in an on-axis response. This is also the reason why all DALI speakers are not designed to be toed-in.