Easily add a room of audio
With the Yamaha Expand bundle simply add the WXA-50 and NS-IC800 in-ceiling speakers/ outdoor speakers, you can easily enjoy your favourite music sources and share them through out your home to other MusicCast multi-room speakers and components.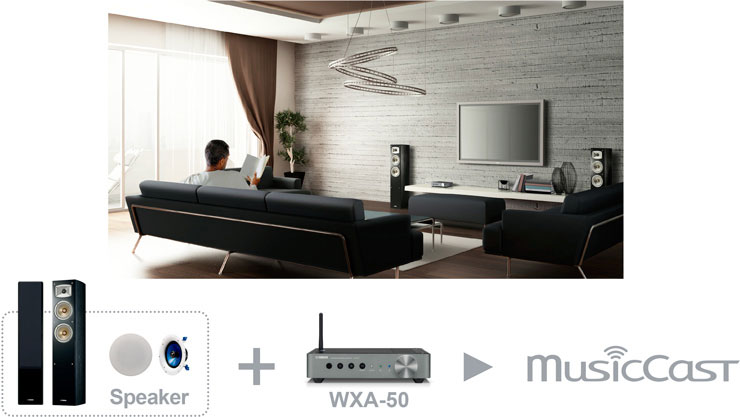 MusicCast
MusicCast is a new revolution in network audio, use all your MusicCast products together or separately, it's completely up to you. Control it, all from one app, designed to be intuitive, quick and simple to use. Use a soundbar, a wireless speaker, an AV receiver, Hi-Fi audio whichever suits you best, mix and match then expand your MusicCast system as time goes on. All new from Yamaha, the MusicCast system brings everything to everywhere for everyone.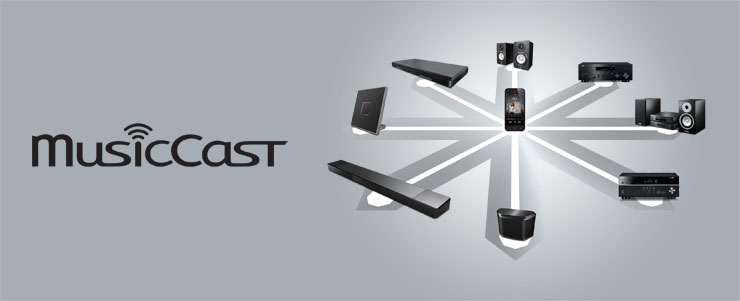 MusicCast delivers a range of entertainment possibilities
MusicCast employs a high performance wireless network to deliver music and audio enjoyment. It can stream digital music content from your smartphone, PC or NAS to other MusicCast devices in your home. It can also share the music from external devices such as a TV or Blu-ray Disc™ player connected to the WXA-50. Audio content from Bluetooth®-connected smartphones or tablets can also be streamed to MusicCast devices in multiple rooms.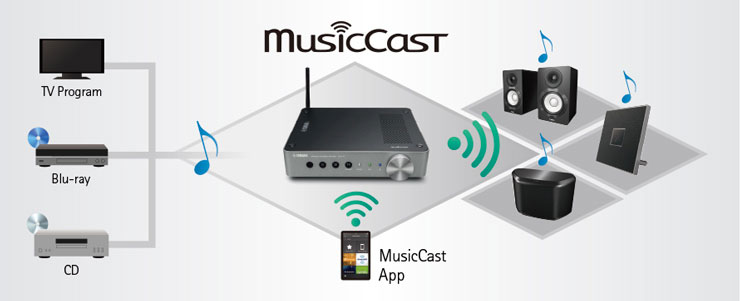 Stream the same or different music to each room
Play the same song in multiple rooms, or play different songs in each room. With MusicCast, freely enjoy the music you love anywhere in your home.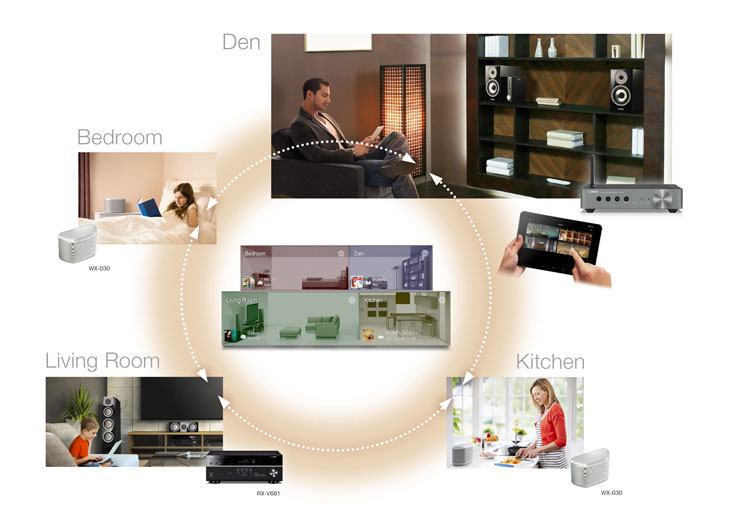 Enjoy all music sources and components
The WXA-50 is compatible with all types of music sources and services, such as streaming services. Provided with various types of terminals for connecting a TV, CD player, computer and other AV equipment, you'll be able to enjoy music from around the world throughout your home from just one component.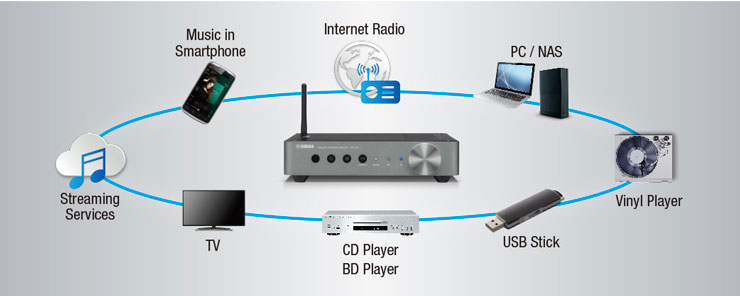 Stream via Bluetooth® or AirPlay®
You can hear all the music sources from your smartphone via wireless Bluetooth or AirPlay connection. You can play music from music apps, radio apps, or YouTube™-type video hosting services.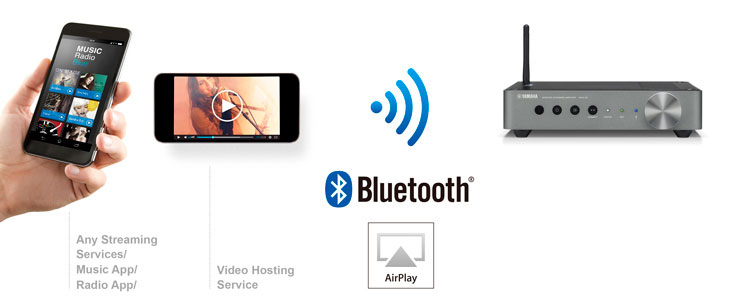 Easy setup with your smartphone or tablet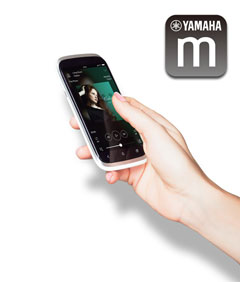 Use your smartphone or tablet together with the MusicCast CONTROLLER App to operate the speaker and change settings quickly and easily. The same Controller app functions as a remote control for all your MusicCast-compatible devices too.
Anywhere, any style
Only 214 mm (8-3/8″) wide, the compact body fits neatly in any space without drawing attention to itself. You can chose any convenient location, placing it horizontally or vertically, on its own or with other audio components.
Luxurious sound, all the time
Thanks to Yamaha's superior sound processing technologies, you'll enjoy great sound from all your music sources — no matter what their quality, or your listening environment, or the kind of speakers you're using. When listening to audio from smartphones or other compressed sources, the Compressed Music Enhancer greatly improves the sound at all frequency levels. Volume-adaptive EQ automatically adjusts the bass / treble balance according to the volume level. Advanced Bass Extension provides a deeper, richer low-end sound — it's great for compact or in-wall speakers. And a Direct Mode allows you to play back high-resolution audio sources just as they are without any processing.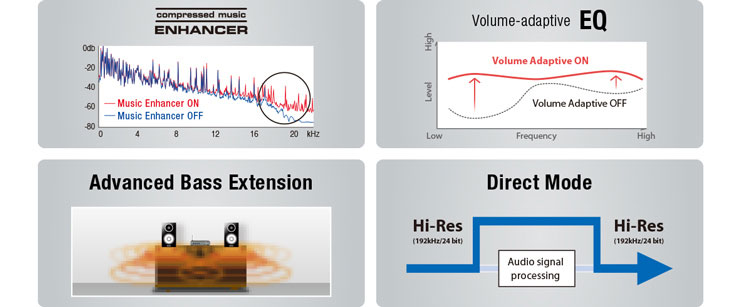 High-level technologies for high-quality sound
The WXA-50 reaps the benefits of Yamaha's advanced audio technologies and circuit designs. The preamp circuitry, for example, minimises digital jitter and uses the same high performance ESS DAC that is found in high-end AV receivers. Yamaha's proprietary power supply ground configuration, called DAC on Pure Ground, ensures that the power supply will never negatively affect sound quality. The 48-bit digital volume control provides much greater precision and quality that conventional digital or analogue controls. In addition, a highly rigid, metal chassis supplies the stability necessary for powerful, clear music reproduction.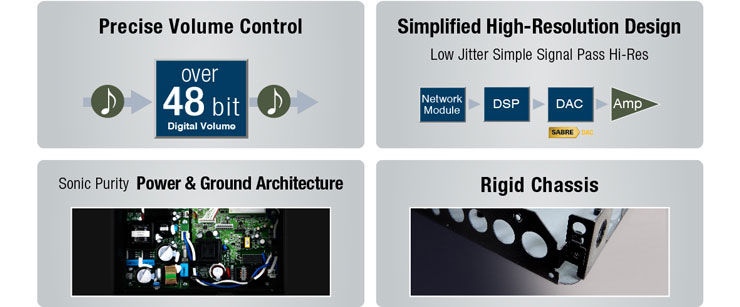 Low power consumption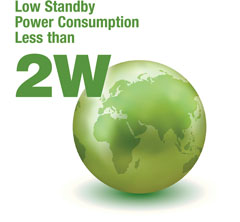 The WXA50 consumes less than two watts of power in standby mode, When the power is on, power consumption is still a low 15 W, and even when used for long periods, power consumption is environmentally friendly. In addition, the Auto Power Down lets you save energy by having the power automatically turned off after 2, 4, 8 or 12 hours.
Easy installation
The WXA50 offers various custom installation functions, so by using several units it's easy to create an extensive home audio
system.
Suitable size for 1U rack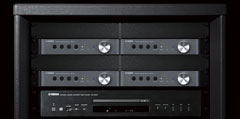 With a width of 214 mm (8-3/8″) and height of 42 mm (1-5/8″) (without feet), this component will fit easily into a 1U (19-inch) rack.