Rated at 60 watts per channel into each of the 8 channels (20Hz~20kHz, .05% THD, 8 ohms, All Channels Driven), 1 or 2 stereo amp pairs can be bridged for single channel high power output (130 watts), and the HEOS Drive HS2 features low impedance drive capability (4 ohms).
Each zone features a stereo pair of pre-amp outputs, and each zone can be configured for stereo or mixed mono output. The matrix switching system features 2 optical digital inputs, 2 coaxial digital inputs and 4 analog stereo inputs, any of which can be assigned to any zone, and every zone features a dedicated USB port for connection to an external USB drive.
Equipped to handle virtually any combination of speaker configurations, HEOS Drive HS2 features built-in DSP high pass/low pass filters – set any output to full range, subwoofer or satellite speaker modes, with adjustable crossover points.
The speaker outputs feature 4-way binding posts that are compatible with banana plug terminations, and there are 4 12V trigger outputs. The chassis features quiet fan cooling for long term stability and operational reliability.
Dual RJ-45 Ethernet LAN ports are provided, for connection to the network and sharing the internet connection with other devices, and HEOS Drive HS2 is 3rd party control compatible.
HEOS Drive HS2 comes with removable feet and attachable rack ears, allowing rack or shelf placement.
Once installed and connected, HEOS Drive HS2 setup and configuration is fast and easy via our HEOS app (iOS and Android).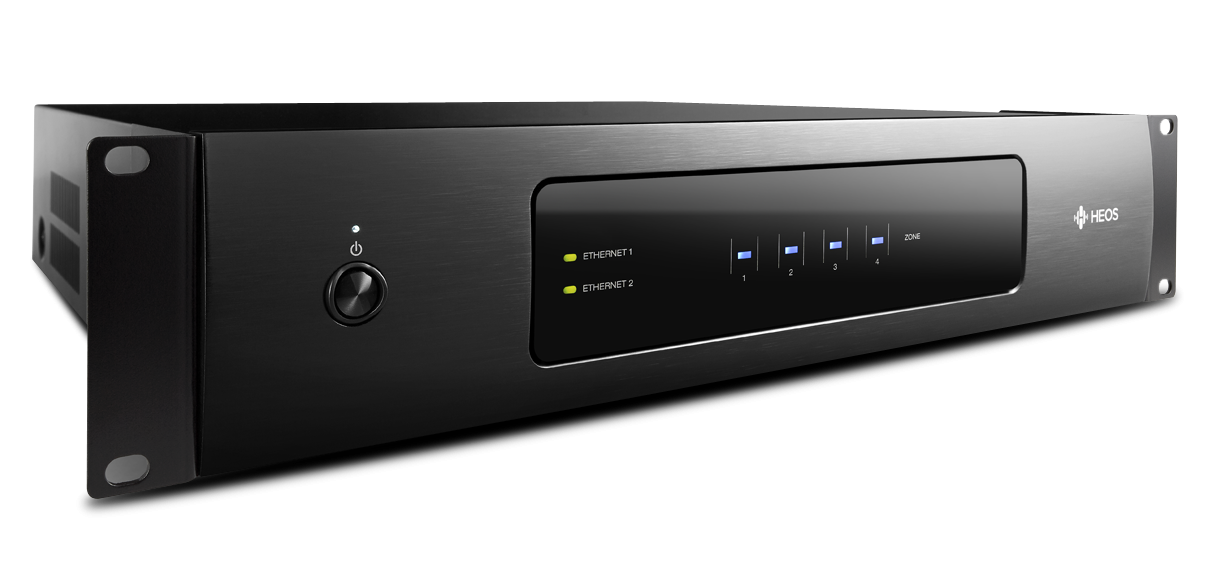 MULTI-ROOM SOUND
Every room can have its own HEOS sound. Or, group multiple devices to fill the house with the same song. Multi-room means multiple options.
APPS & STREAMING SERVICES
Cloud music, streaming music and your music library—all your favourite sources are supported by this amazing FREE app.
AMAZING SOUND QUALITY
It's no accident that HEOS speakers produce pristine sound. They are engineered by the experts at Denon, innovators in audio for more than 100 years.
EASY SETUP
It's amazing how quickly you can start listening to your HEOS speakers. Place your speakers, and you will be listening to music in minutes.. It's really that simple.
HEOS + Alexa – Speak Your Commands
Use your voice to stream your favourite music services to this HEOS-enabled device. Ask Alexa to play music from Amazon Music, Spotify, and more. You can also turn the volume up or down, pause, mute and play the next song — all with your voice.
To start streaming with Alexa voice commands, open the Alexa app and select "Skills." Add HEOS Home Entertainment to enable. Then, go to Smart Home in the Alexa app menu and choose Devices and Discover or say "Alexa, discover my devices."
With HEOS Home Entertainment and Alexa, you can stream to this product and any other HEOS-enabled device. Play music from Amazon Music, Spotify, and TuneIn with more streaming services also to come. All you have to do is ask.
Google Assistant
Ask your Google Home, Google app or other devices with Google Assistant built-in to control content across your listening environment. Start music in the HEOS app, then ask your Google Assistant to control volume, play, pause, skip tracks and more. 'Works with the Google Assistant' feature is always improving — further enhancements arrive in 2019.