CONTROL4
WHAT IS CONTROL 4?
While there are many smart products available today, it isn't until these devices work together in orchestration, that you experience the magic of a smart home.
From homes small to large, new and old, Control4 delivers power and performance on one system that coordinates the technology in your house into complete, brilliant experiences—interactions that fit your lifestyle and are easy for your family to enjoy. With one touch, dim the lights, stream high-resolution music, turn up the heat, lock the doors and arm the security system. Check in on cameras or see who's ringing the doorbell—from wherever you are. It's a smarter living experience that you'll wonder how you ever lived without.
West Coast Hifi are proud to be Control4 Authorised Gold Dealers. Our team have the experience and training to design, install and support a range of home automation solutions.
Whether you want a dedicated theatre filled with the latest technologies such as 4k and 3D projection, 11.2-channel Dolby Atmos surround sound system with chest-rattling bass or just a nice HDTV mounted in your living room, home automation elevates your movie viewing experience to an entirely different level.
Control4 home automation allows you to integrate the products and services you already use into one seamless, awe-inspiring experience. You could simply press the "Watch" button on your Control4 remote and grab your snacks.
Your Control4 system can turn on all of your devices and set them to the correct inputs, automatically. It even has the ability to automatically dim the lights for you so you don't have to get up to turn them off and stumble through a dark room on your way back to the couch.
When you need to make a quick trip to the kitchen or the bathroom, just press the pause button on your Control4 remote control and the lights can be programmed to automatically raise to 50% to provide a lighted pathway for you to travel safely. When your movie is interrupted by a knock at the door,
you can pause the movie and see who is standing on your porch from your touch screen camera display, so you can decide whether you should get up to answer the door or stay seated comfortably.
The seamless integration of a Control4 home automation system into your home theatre will make you wonder how you've ever watched a movie without it. Get your smart home started with an affordable smart entertainment experience that connects and automates all of your audio and video devices with a single remote.Remember, everything is better when it works together.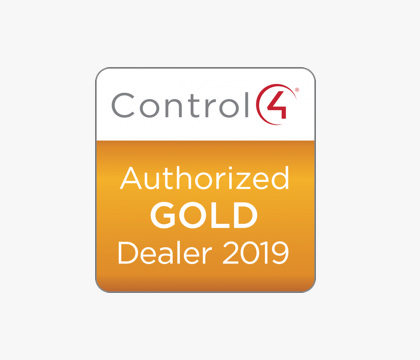 Home Theater
Design a jaw-dropping home cinema that rivals any commercial cinema. Press the "Movie" button, and the projector screen descends, the Blu Ray player fires up, the surround sound is activated and the lights dim.
Every room audio
Stream high-resolution music anywhere, or everywhere.
With Control4, streaming music is a standard in every system. Wake up in the morning listening to your favorite Pandora channel, or walk in the door at the end of a long day to your favorite Napster playlist. With a single button press, have the lights dim while a relaxing dinner music from Tidal queues up. With our Triad audio solutions, you will enjoy an elevated sound experience anywhere from kitchen to the pergola.
Multi-room video
Deliver superior sound, stunning video and an incredible entertainment experience in every room throughout the house. Share your entire movie library, streaming video and satellite channels in every room—no need for set-top boxes and multiple video sources. Consolidate all of your audio and video equipment into a closet, creating a clutter-free installation.
Interface
Whether it's a handheld remote for your video experience, a touch screen to browse and play music, or a keypad to manage lights, shades, audio, and more, Control4 has many interfaces that allow you to interact with your home however you choose. And should you prefer no interface at all, simply use your voice to control anything in the house.
Each method of control is designed for simple and easy access to the features you use most, with a consistent look and feel across all devices.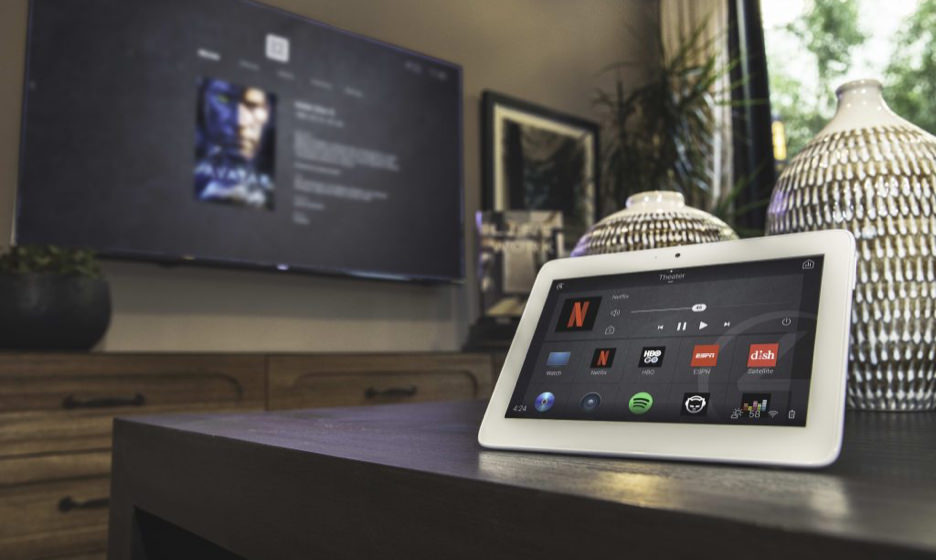 Blinds & shades
Easily raise, lower, or tilt individual window coverings or a grouping of motorized blinds or shades in your home.
Control4 works with some of the world's leading shade manufacturers—such as Lutron, QMotion and Somfy—to ensure a seamless experience through manual control or by automated settings that work alongside the lights and thermostat to increase energy efficiency.
Intercom anywhere
From anywhere in the world, receive calls from your porch, the gate, or from anywhere inside of the house. Your door station will ring you when a service worker has arrived, and you can give instant access to the house from the same convenient app. Alternatively, use your smartphone to call any touchscreen in the house, so you can see how the kids are doing. It's the perfect blend of peace of mind and home control.
Voice controlled lighting
If you have Control4 Smart Lighting, you can add immediate out-of-the-box voice control of your lights with Amazon Alexa-enabled devices. Ask Alexa to light the way when you walk into the house with your arms full. Set the mood easily by asking Alexa to lower the dining room lights to 40%. Or turn off every light at once from the comfort of your bed covers when it's time to turn in.