Key Features
A quiet fan system designed for cooling receivers, amplifiers, DVRs, and other AV components.
Protects components from overheating, performance issues, and shortened lifespans.
LCD thermostat programming with six speed controls, alarm alerts, failure triggers, and memory.
Contains three dual-ball bearing fans with PWM-controlled motors to minimize noise.
Dimensions: 17 x 13.5 x 1.5 in. | Exhaust: Front | Airflow: 160 CFM | Noise: 24 dBA | Bearings: Dual Ball
A quiet cooling fan system designed to be placed on top of AV components such as receivers, amplifiers, and DVRs. Maintaining an optimal temperature for components prevents overheating, ensures constant performance, and extends their lifespan.
The controller on the front of the cooling system features a smart thermostat trigger and fan speed control. The steel enclosure houses two dual-ball bearing fans (T10)  that pulls heat out of the component and exhausts out the front (T10) . Its low-profile design enables the unit to fit in tight spaces. Includes corded power adapter to plug the fan system through an outlet.
Intelligent Programming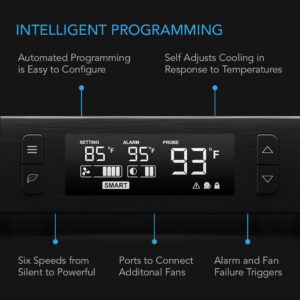 There are three programming settings available which includes two temperature trigger modes. The fans can also be set to run continuously or be turned off. Four fan speeds are available for each active mode and will determine the speed at which the fans run when they are triggered. This ensures optimal airflow and noise levels for your application.
Design and Construction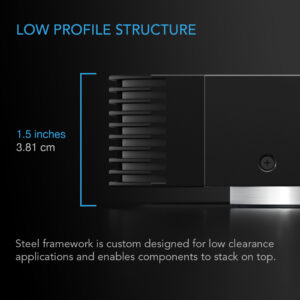 Product Performance and Technical Specs
Number of Fans – 3
Exhaust – Front
Total Airflow – 160 CFM
Total Noise – 24 dBA
Static Pressure – 1 mm-H2O
Operating Voltage – 12V DC
Power – 9.5 W
Current – 0.79 A
Wall Adapter Input – 100 to 240V AC
Operating Humidity – 35 to 85% RH
Operating Temperature – 14 to 230°F
Fan Bearings – Dual Ball
L10 Life Expectency  – 67,000 Hours
Top Weight Capacity  – 30 Pounds
Fan Quality Approvals – UL, CE, TUV, RoHS