JBL L100 Classic Features
Limited edition L100 Classic package in celebration of JBL's 75th anniversary
Teak veneer cabinet finish with black Quadrex grille and special anniversary badges
Bi-amp capable network with dual sets of gold-plated binding posts
Offered as a numbered, matched pair system including JS-120 floor stands
Exclusive design limited to only 750 pair worldwide
Packaged in exclusive JBL Shipping Crate.
Retro design with iconic JBL styling and vintage Quadrex foam grille in a choice of three colours: black, orange or blue
Genuine satin walnut wood veneer enclosure with black painted front and rear panels
12-inch white cone, pure pulp woofer with cast frame

5-inch pure pulp cone midrange
1-inch titanium dome tweeter
Bass-reflex design with front-firing port
High-frequency and mid-frequency L-pad attenuators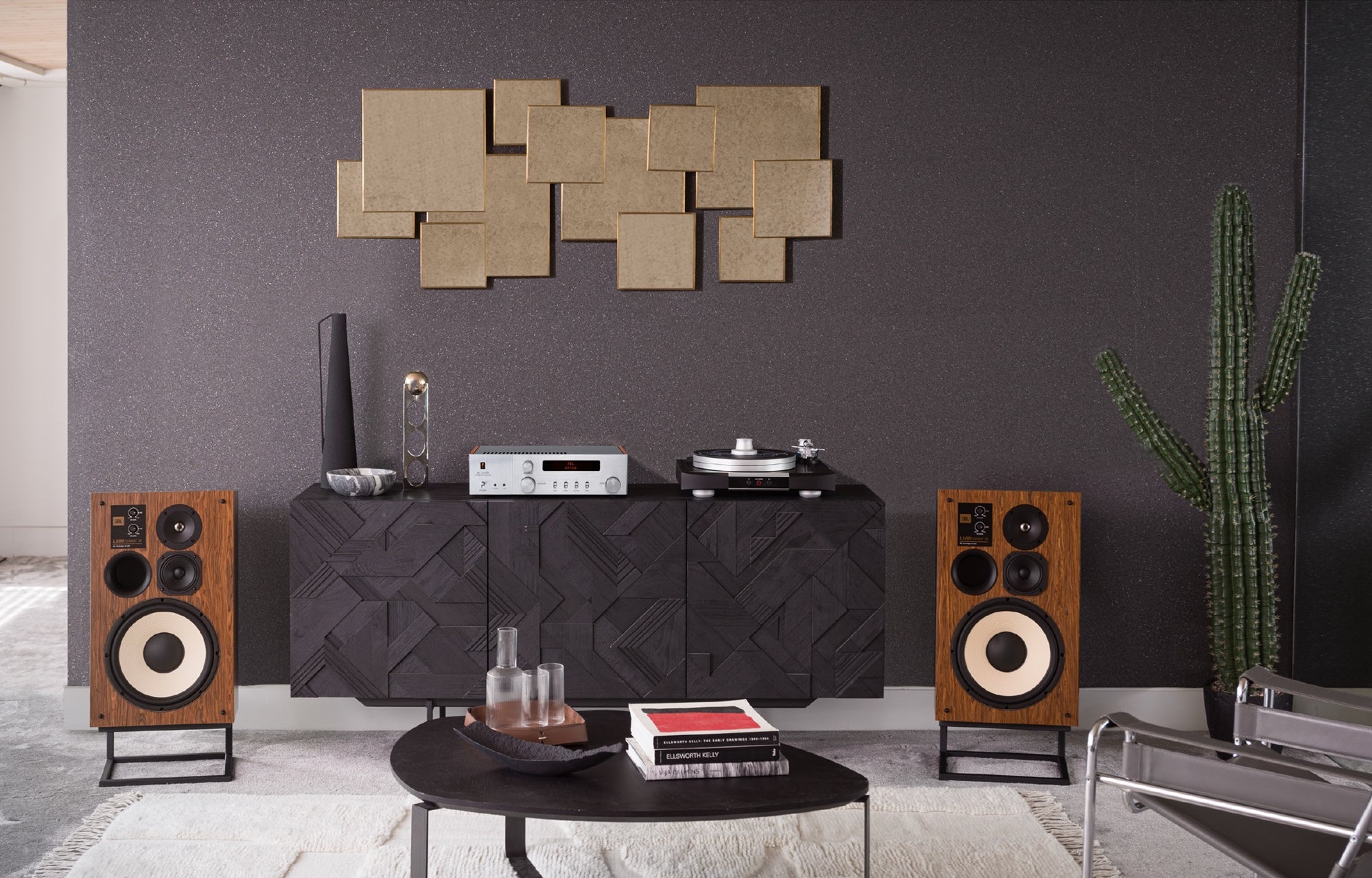 The most immediately striking feature of the limited-edition L100 Classic 75 is a beautiful teak wood veneer finish that graces all sides of the loudspeaker enclosure. The wood finish is complemented by a black Quadrex foam grille accented with a gold and black JBL logo and a matching teak wood veneer frame.
Anniversary edition badges are found on the front and rear of the loudspeaker including a commemorative plaque with the signature of the principal system engineer, Chris Hagen, as well as the individual pair number out of the total production run. Acoustically, the L100 Classic 75 features an improved woofer suspension design and a revised network to include bi-wire capabilities via a premium input cup with dual sets of gold plated binding posts.
The L100 Classic 75 is sold as a matched pair system and includes a set of JS-120 floor stands. The entire system ships inside a specially-crafted wooden crate with limited edition artwork on the side panels. Production is limited to 750 pair worldwide.
Nothing beats a classic. An irresistibly modern version of the L100, the best-selling speaker in JBL's storied history, the L100 Classic loudspeaker honours its predecessor's unparalleled legacy and penchant for accurate, studio-quality performance all the while taking listeners deep into the 21st century with newly developed acoustic technology.
Featuring unmistakably vintage styling that extends to the hallmark Quadrex foam grille in a choice of three vibrant colours, L100 Classic also comes with a satin wood walnut veneer enclosure with a black painted front and rear panels for aesthetics that stand out as much as this ravishing three-way model's sound.
The 1-inch titanium dome tweeter is mated to a waveguide with an acoustic lens for optimum integration with the 5-inch pure-pulp cone midrange driver directly below it. Powerful bass is provided by a 12-inch cast-frame, white pure-pulp cone woofer in a bass-reflex enclosure, tuned via a single front-firing port tube.
The high-frequency and mid-frequency L-pad attenuators on the front baffle preserve the classic features of this iconic legend.