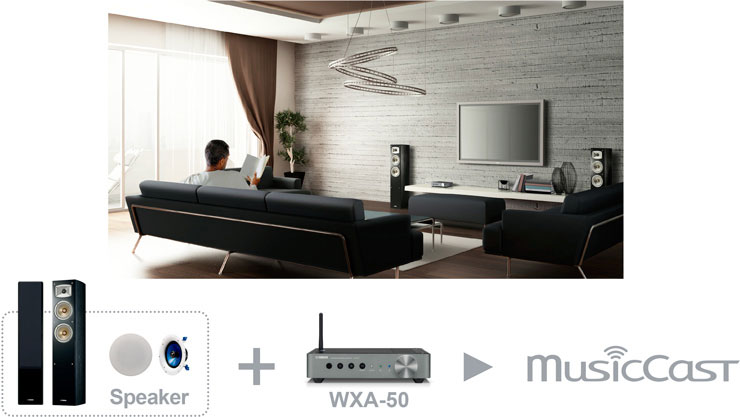 MusicCast
MusicCast is a new revolution in network audio, use all your MusicCast products together or separately, it's completely up to you. Control it, all from one app, designed to be intuitive, quick and simple to use. Use a soundbar, a wireless speaker, an AV Receiver, Hi-Fi audio whichever suits you best, mix and match then expand your MusicCast system as time goes on. All new from Yamaha, the MusicCast system brings everything to everywhere for everyone.
MusicCast Expands Entertainment Possibilities
MusicCast employs a high performance wireless network to deliver music and audio enjoyment. It can stream digital music content from your smartphone, PC or NAS to other MusicCast devices in your home. It can also share the music from external devices such as a TV or Blu-ray Disc™ player connected to the WXA50. Audio content from Bluetooth®-connected smartphones or tablets can also be streamed to MusicCast devices in multiple rooms.
Stream the Same or Different Music to Each Room
Play the same song in multiple rooms, or play different songs in each room. With MusicCast, freely enjoy the music you love anywhere in your home.
Enjoy All Music Sources and Components
The WXA50 is compatible with all types of music sources and services, such as streaming services. Provided with various types of terminals for connecting a TV, CD player, computer and other AV equipment, you'll be able to enjoy music from around the world throughout your home from just one component.
Easy Setup with Your Smartphone or Tablet
Use your smartphone or tablet together with the MusicCast CONTROLLER app to operate the speaker and change settings quickly and easily. The same Controller app functions as a remote control for all your MusicCast-compatible devices too.
Yamaha WXA50 Features
By adding the WXA-50 to your speakers, you can enjoy multi-room music streaming
2.1 channel powerful sound
— 90 W per channel (6 ohms, 1 kHz, 0.9% THD, 1-ch driven)
— 70 W per channel (6 ohms, 20 Hz-20 kHz, 0.06% THD, 2-ch driven)
Compatible with all types of music sources and services such as streaming services
MusicCast app for easy operation. The app lets you control other MusicCast-compatible components
One push play – pressing any button turns the unit on and initiates playback of the previously selected source
Retro modern design and superior quality
48-bit digital volume control is far greater than the input signal bit resolution, achieving high quality control
Compact design measuring only 214 mm wide fits in any location, either horizontally or vertically
Easy installation – suitable size for 1U rack with a width of 214 mm and height of 42 mm (without feet)
Low standby power consumption: 1.92 W