Our cinemascope packages are perfect for people who love a night at the movies. With a cinemascope screen you'll no longer have to view your favourite film with black bars on the screen top and bottom but rather enjoy it in wonderful widescreen. The included 130" screen is over 3m wide but we can produce larger screens to suit any room. The multi award winning Epson TW9400 rounds out the package.
EPSON EH-TW9400

4K PRO-UHD Projector



DENON AVR-X1700

7.2 Channel 8K A/V Receiver with 

Wi-Fi, Bluetooth & HEOS

 




NVIDIA Shield 

4K HDR Media Streamer



POLK Signature Elite ES50

Floorstanding Speakers 



POLK Signature Elite ES30 C

entre Speaker 



POLK HTS-10 10" Powered Subwoofer 

POLK V60 In-Ceiling Speakers. 2x Pair.
HD Digital Set Top Box
HDMI/Speaker Cables and Projector Bracket
Fully Installed
EXPERIENCE TRUE CINEMASCOPE WIDE SCREEN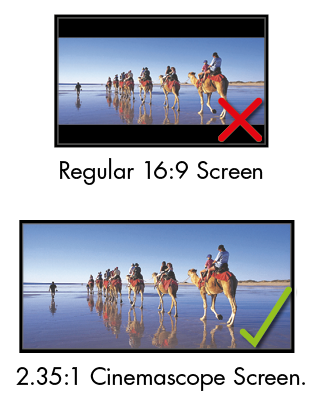 Don't miss out on true wide screen cinema experience or put up with black bars top and bottom with a regular 16:9 screen. Watch 2.35 movies how they were intended to be seen, in true cinematic wide screen with a 2.35:1 Cinemascope Screen.