Connectivity
Play anything. Hear everything.
LS60 Wireless delivers robust, high-quality streaming using any format you can imagine, thanks to the same class-leading W2 wireless platform KEF introduced on the award-winning LS50 Wireless II. No matter which music service, podcast, internet radio or wired source, LS60 Wireless delivers a peerless performance.
---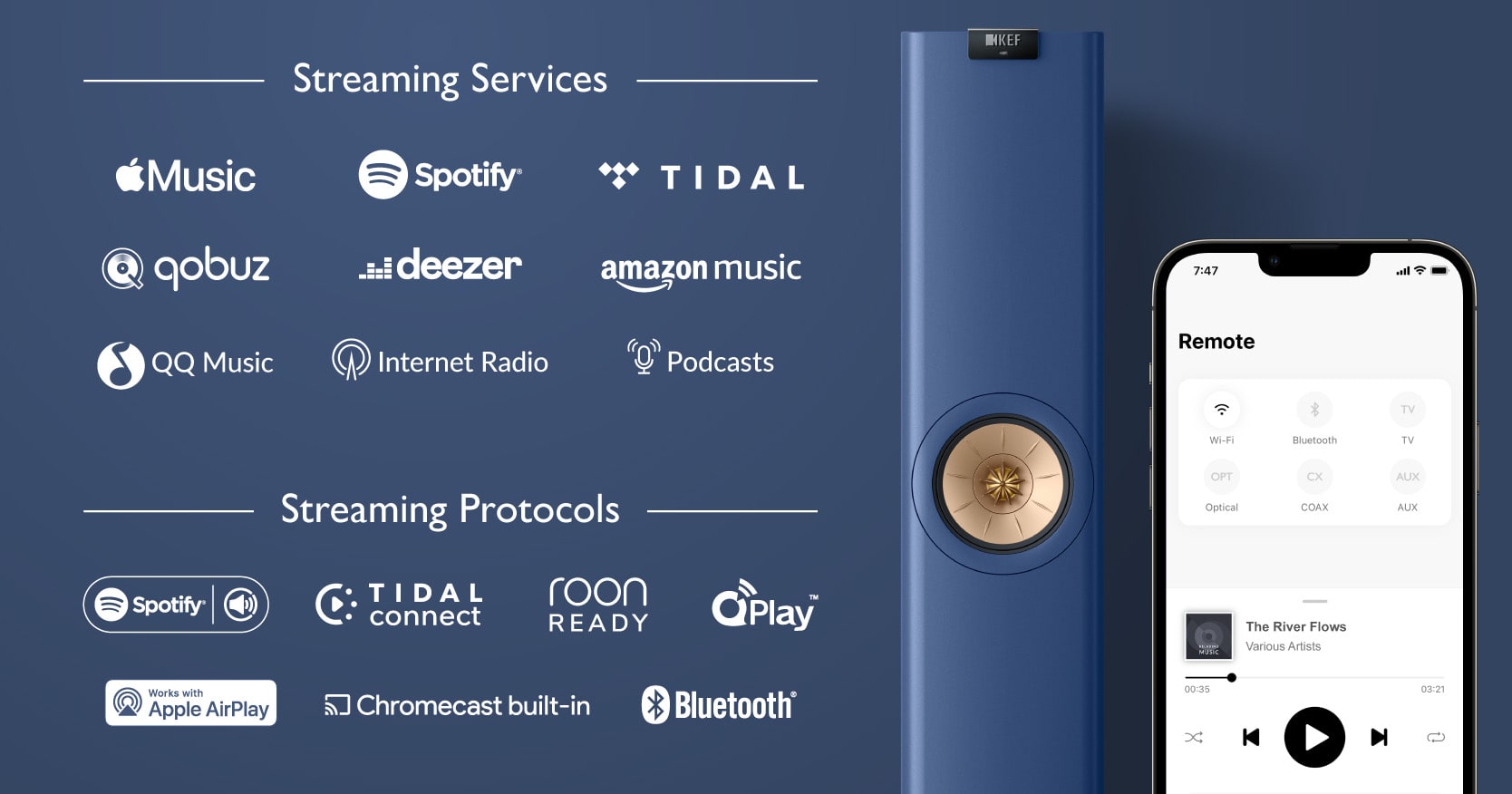 Stream anything
LS60 Wireless has you covered with out-of-the-box wireless compatibility with Wi-Fi, Apple AirPlay 2, Google Chromecast and Bluetooth. Using the KEF Connect app you can stream Amazon Music, Qobuz, and Deezer or tune in to internet radio and podcasts. You can use native apps to stream directly from Spotify Connect, Tidal Connect and QPlay, and it is Roon Ready*. LS60 Wireless also supports the streaming of PCM files up to 24bit/384kHz, as well as MQA decoding and DSD.​​​​​
*Expected release in Autumn 2022
---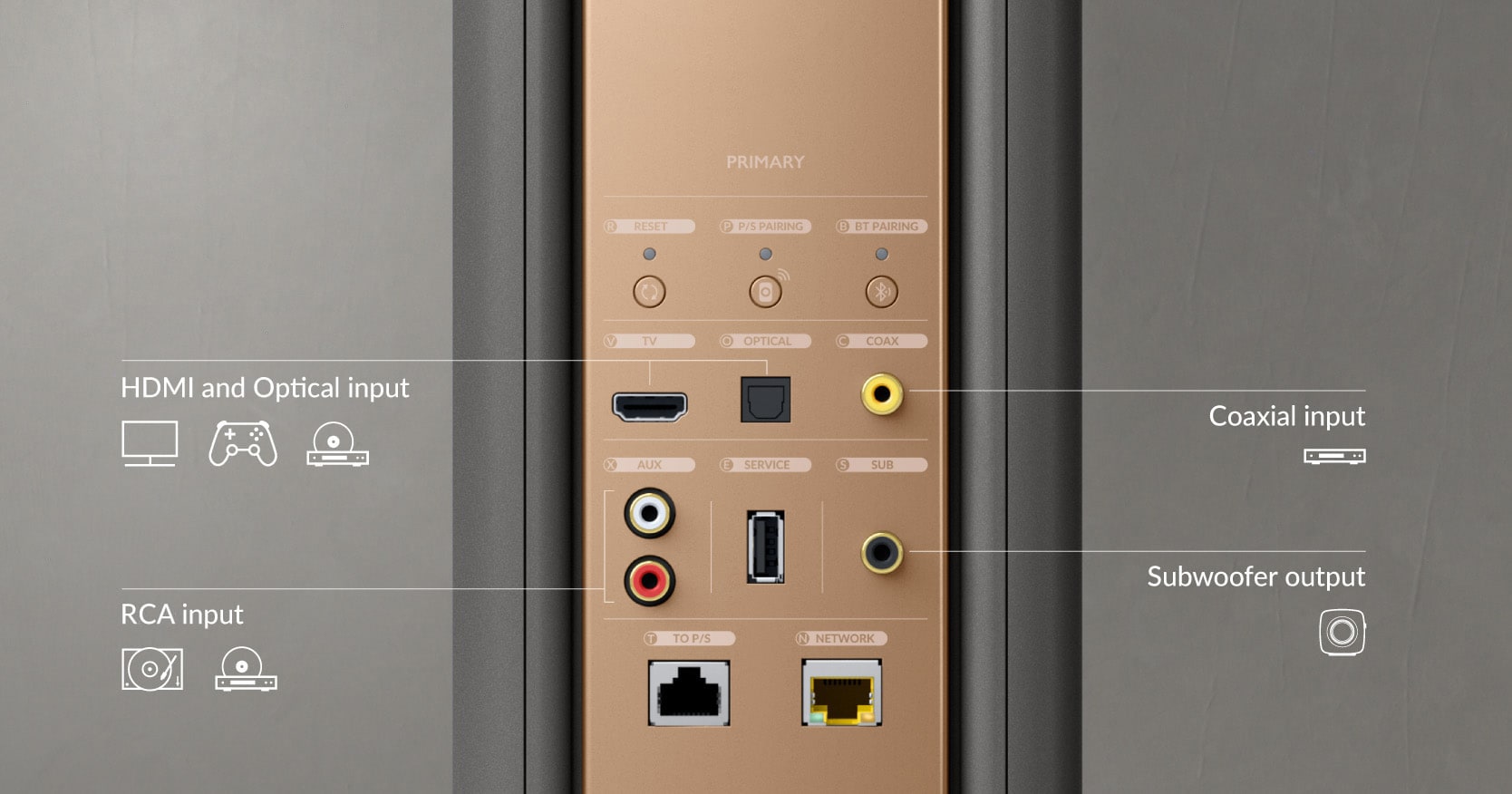 Connect anything
LS60 Wireless supports all your wired sources whether you love to listen to vinyl records on your turntable or want to get the best possible sound from your CD player and games console. There's also an HDMI (eARC) connection for a high-quality link up with your TV, and a dedicated output on each of the two speakers for the addition of one or two KEF subwoofers.
---

Usability
Effortless control
LS60 Wireless is powered by the W2 wireless platform with user-centric features that are ready from the start, from intuitive onboarding to customising your listening experience via the KEF Connect App.
---
Wireless or wired
LS60 Wireless offers you the choice of wireless interspeaker connectivity or wired connection to maximise performance. You can use the low-latency intelligent wireless interspeaker connection for exceptionally reliable cable-free listening up to 24bit/96kHz or the wired connection with resolution up to 24bit/192kHz.
---
Personalise your listening
The KEF Connect app features intuitive sound settings so you can fine-tune your LS60 Wireless to best suit your room. There are normal and expert modes, to ensure every user gets the best performance.
---

Performance
60 years of acoustic innovation
Obsessed with sound quality and committed to delivering a superior listening experience, KEF has been pioneering innovative acoustic engineering since 1961. Combining all KEF's key technologies, LS60 Wireless delivers superlative acoustic performance.
---
Single Apparent Source
Single source. Coherent sound
At the heart of LS60 Wireless sits the Single Apparent Source technology adapted from our flagship Blade loudspeaker. It aims to achieve the acoustic ideal of a point source, where low, mid and high frequencies radiate from one point. It is what makes LS60 Wireless incredibly coherent, with more precise and clear sound across the whole bandwidth.
---
Uni-Q
Sit anywhere, hear every detail
Uni-Q technology is the building block of KEF signature sound. Designed to perform at its best in LS60 Wireless, the remarkable 12th generation Uni-Q driver array acts as a single point source enlarges the 'sweet spot' and disperses sound more evenly, allowing everyone sitting at different spots in the room to experience the same natural, detailed sound.
---
Metarmaterial Absorption Technology
Absorb 99% of the unwanted sound
The LS60 Wireless benefits from our latest acoustic innovation: Metamaterial Absorption Technology (MAT™). MAT™ is a highly complex maze-like structure that absorbs 99% of the unwanted sound from the rear of the driver, eliminating the resulting distortion and providing purer, more natural sound.
---
Uni-Core
Maximises bass, minimises space
LS60 Wireless features the revolutionary Uni-Core technology that redefines size versus performance. Two pairs of Uni-Core bass drivers are mounted back-to-back in a force-cancelling arrangement, so cabinet vibration is practically eliminated. Together with P-Flex driver surround and Smart Distortion Control Technology, the bass is balanced, detailed, deep and powerful.
---
Perfectly controlled
Music Integrity Engine is the brain behind LS60 Wireless. It is precisely tuned to allow the Single Apparent Source configuration and the Uni-Core drivers to work in perfect harmony, elevating the performance of each. It's low-frequency phase correction feature delivers pinpoint timing exactly as if you were listening to the original sound.
---

Audiophile-grade power
The LS60 Wireless also has power in abundance, with a highly optimised mixture of bespoke Class AB and Class D amplification delivering a combined 1400 Watts of audiophile-grade power, with amplifiers dedicated to high, medium and low frequencies within each speaker.
---

High-Fidelity sound
LS60 Wireless aims to bring high-fidelity sound to more people in their homes. With the combination of all our key technologies, LS60 Wireless delivers high-fidelity sound up to 24bit/384kHz.
---

Design
Impossibly slim.
LS60 Wireless defies the limits of audio performance with its iconic slim structure. The extremely slim profile is only possible with all the advanced technologies contained within. LS60 Wireless is truly a speaker system that looks as good as it sounds.
---

Attention to every detail
Every aspect of LS60 Wireless has been considered for acoustic benefits and from a design perspective.
---
Designed for performance
As a high-performance all-in-one speaker system, every aspect of the LS60 Wireless design is a case of form following function. The well-considered design of the back panel and plinth incorporates a cooling mechanism for sufficient air circulation, allowing LS60 Wireless to perform at its best without overheating.
---

Finished to perfection
The sleek speaker cabinets are finished in three matte finishes: Titanium Grey, Mineral White and Royal Blue, all of which feature tone-matched drive units. The Titanium Grey and Mineral White are designed to be blended into interior spaces, while the Royal Blue is perfect for those who want to make a statement.
---
Design by Michael Young and KEF Product Design Team
Working together with the KEF product design team, Michael Young brings his vibrant imagination, sophisticated minimalism and innovative approach to the LS60 Wireless design. LS60 Wireless achieves a fine balance of form and function with well considered details.