Bowers & Wilkins AM-1 Features
The AM-1 Architectural Monitor offers a unique combination of high-quality sound and supreme flexibility. Articulate, exciting and powerful, AM-1 avoids the compromises commonly associated with versatile, all-weather monitors, and delivers all the performance expected of a Bowers & Wilkins loudspeaker.
A two-way design, AM-1 features an inverted drive unit configuration, with a 25mm aluminium-dome tweeter mounted below rather than above a 5inch glass-fibre bass/midrange driver. This ensures optimal dispersion of sound when the speaker is mounted high on the wall. AM-1's low-frequency output is bolstered by the use of a rear-mounted auxiliary bass radiator (ABR). Used instead of a conventional bass reflex port, the ABR endows AM-1 with exceptional bass response for a cabinet of its size. Unlike a port, it also provides AM-1's cabinet with a continual seal against the elements. This combination of advanced drive units, unique configuration and classically simple crossover components combines to create a loudspeaker as musical as it is flexible.
AM-1 has been carefully designed to be easy to install and very flexible. Designed to be positioned in either landscape or portrait mode, AM-1 combines a rust-proof aluminium grille with a rigid cabinet composed of glass-filled plastics, ensuring class-leading resistance to extremes of dust, moisture and UV exposure. And while it has very obvious benefits outside, its discreet styling and impressive performance will also find favour for use internally.

Sonos Amp Features
Sonos Amp packs 125 Watts per channel to power high-fidelity sound and streaming capability for turntables, TV, and architectural, bookshelf, outdoor, and floor-standing speakers.
Create the ultimate entertainment system and stream from over 100 services. Control is easy with the Sonos app, AirPlay, the touch interface, or your voice via smart devices like Sonos One.
Platform integrations help streamline control of your smart home, so you can control your system with a universal remote or keypad. And because Sonos continually updates with new features and services, your experience will improve over time.
More power. More possibilities.
With 125 Watts per channel the Sonos Amp supports high-fidelity sound for outdoor, bookshelf, floor-standing, and architectural speakers.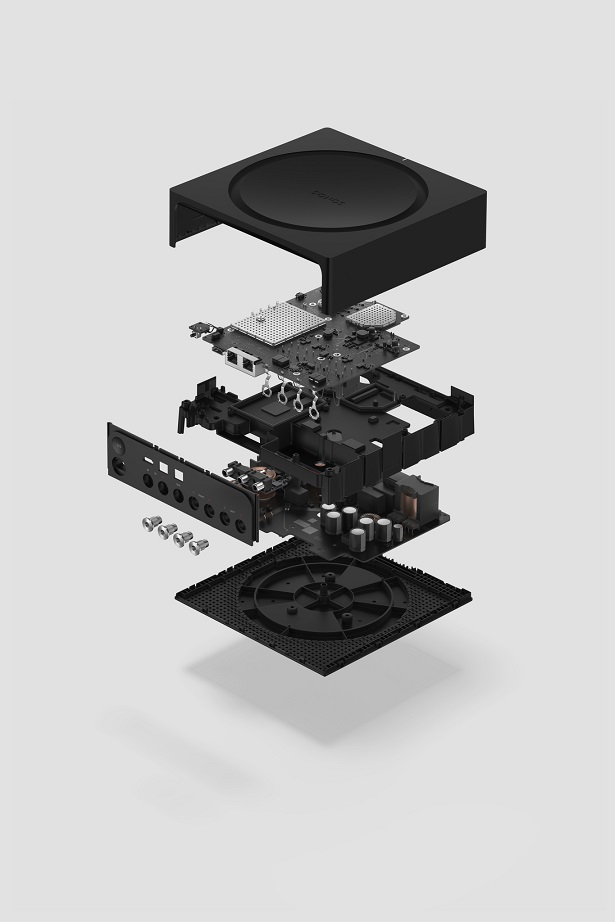 Create the ultimate entertainment system.
Sonos works with over 100 streaming services so listeners can enjoy the ones they prefer, and Amp includes an HDMI ARC input to connect to TV and a line-in for connecting a turntable or other audio source.
New ways to customise the experience.
New APIs and partner integrations streamline smart home control with phones, tablets, universal remotes, keypads, and voice via smart devices.
Flexible control.
Use the Sonos app, AirPlay 2, a universal remote, the touch controls on the Sonos Amp, or your voice with smart devices such as Sonos One and Beam.
Versatile design.
Amp fits standard racks and can be wall mounted, plus it features a simplified set of ports for clean-looking connections.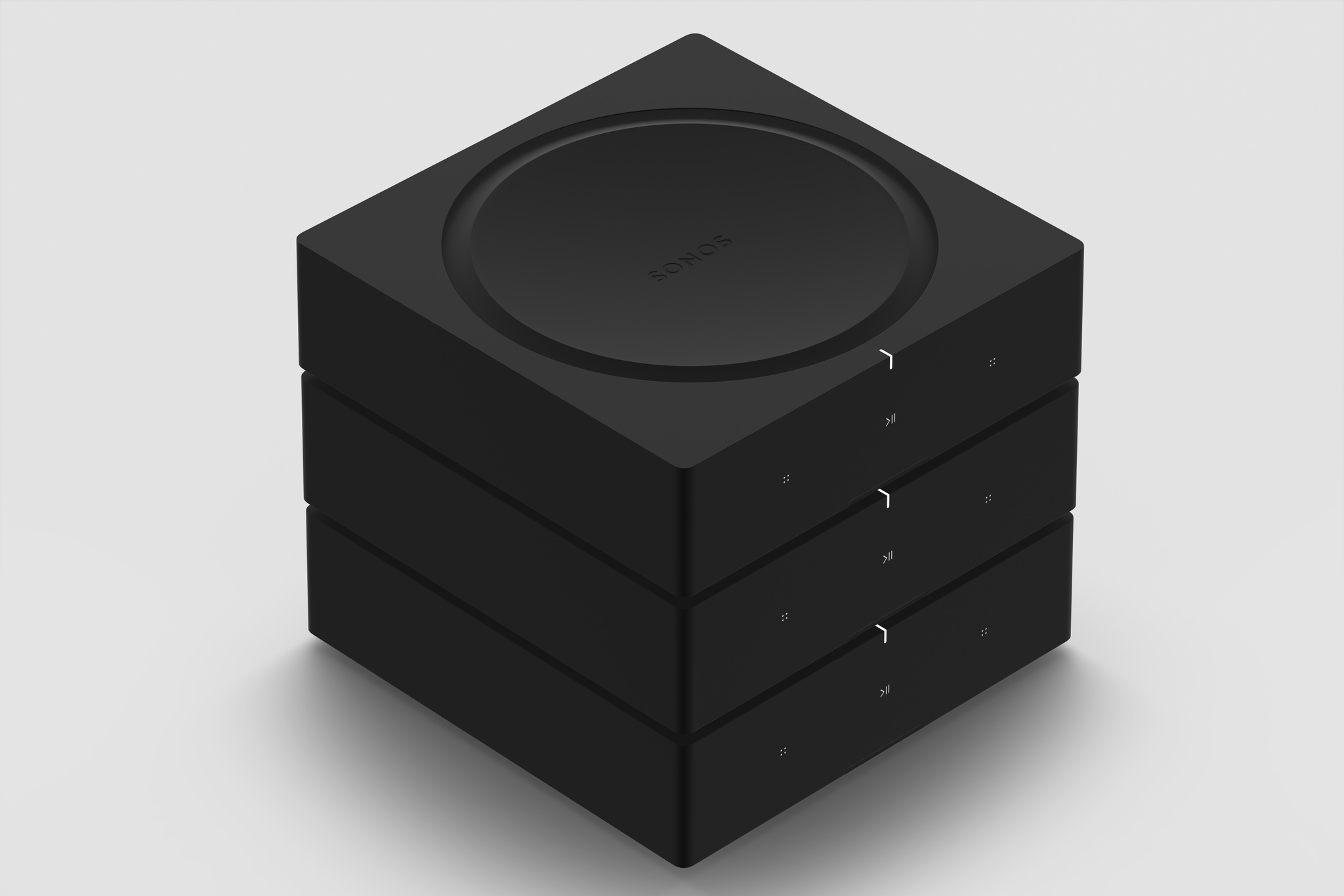 Amazingly pure sound.
Direct digital input eliminates the need for analog conversion, resulting in crisp, undistorted sound for music streaming and TV.
Power a built-in sound system. Use Amp with in-wall and in-ceiling speakers plus a built-in subwoofer.
100+ streaming services.
Sonos supports over 100 streaming services and AirPlay 2, so you can play music, audiobooks, podcasts, radio stations, videos and more from the apps you prefer.
One easy-to-use app.
The Sonos app brings all your customers' streaming services and room controls together in one place.
Simple to set up.
The Sonos app will walk you through setting up Amp with step-by-step instructions and make it easy to customize your system.
Turn WiFi off.
Amp provides solid and reliable WiFi performance, but it's easy to turn WiFi off in the Sonos app if you want a wired solution.
Stereo or dual mono sound.
Choose how you want to configure the sound in the Sonos app to create the best possible listening experience.
Custom speaker connectors.
A pair of threaded connections for left and right channels blend into Amp and support high-quality performance. Plus, they're standard diameter so you can remove them and use your own banana plugs.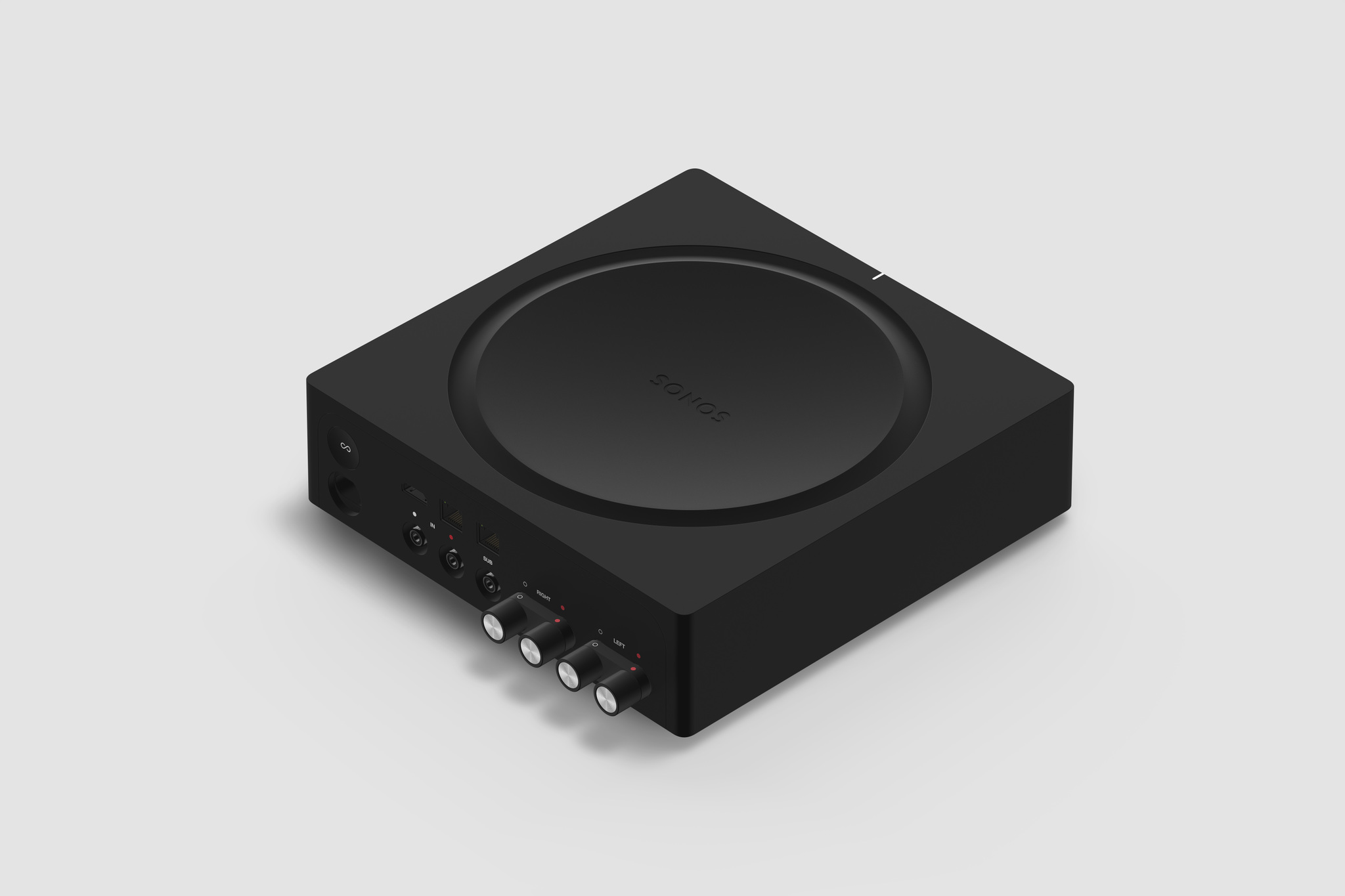 Quiet convection cooling.
With a centralised heatsink and air inlets, Amp keeps its cool without the noise of a fan.
Better over time.
Sonos regularly updates with new features, voice assistants, services, and API integrations, so your options are always up to date and improving.
Expand your system any time.
It's easy to add Sonos speakers and connect them over WiFi for listening in more rooms.