STATE OF THE ART PERFORMANCE
The Hypex Ncore® NC1200 class-D power module represents the state-of-the-art for audiophile performance, with unparalleled clarity, musicality and resolution. It features the industry's lowest distortion and noise specifications, and its performance is frequency-independent. You'll find it in the finest audiophile monoblocks, and that's why we use it in the Amplitude8.
The audio performance of the Amplitude8 satisfies the most demanding audiophiles, and when watching movies, you'll find its silent background noise and enormous dynamic range ensures you'll hear every detail in the quietest passages and clean, undistorted output and impact when the soundtrack is at its highest loudness levels.

FEEL THE POWER
Think of this 8-channel class-D power amplifier as two high-output four-channel amplifiers on a single chassis, each with its own power supply.
Each linear power supply is built around a separate heavy-duty toroidal power transformer, enabling every module of the Amplitude8 to deliver 225W into 8 ohms, 375W into 4 ohms and 500W into 2 ohms.
In fact, the Amplitude8 requires two AC power connections.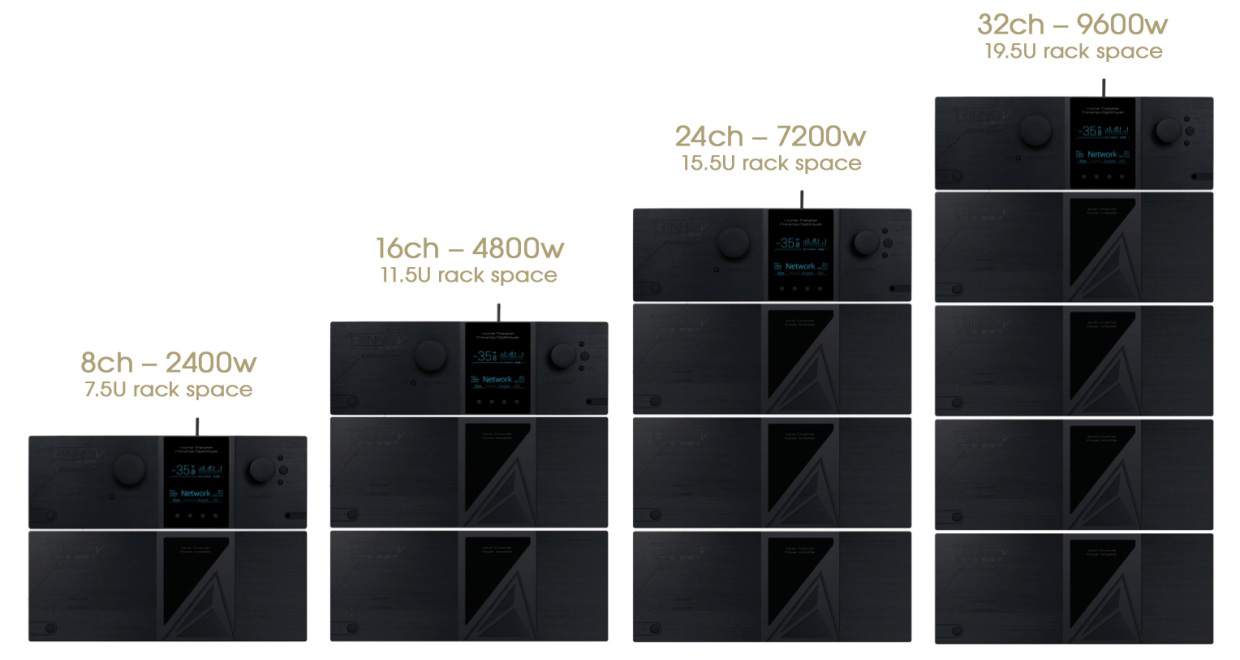 PERFECT INTEGRATION
We perfectly matched the input level of the Amplitude8 to the output level of the Altitude32, optimising the system's dynamic range. By doing this, we are able to decrease the background noise of the system by a highly significant 6 to 8 dB, a benefit unavailable when using other amplifiers.
Why is this so important? Immersive audio systems have a large number of speakers, and each is a potential source of background noise, especially when the system has high-sensitivity speakers. A silent background ensures that low-level sounds critical to a soundtrack will not be obscured.
MAGNIFICENT IMPRESSION
The physical integration of the Amplitude8 and your Altitude processor has also been taken into account. You can take the conventional approach with eight independent XLR input cables, or elegantly simplify your rack installation with a single D-Sub cable that handles all 8 channels.
Convection cooled, the Amplitude8 operates silently, without internal fans, making it ideal for use when the equipment rack is located inside the theatre. Once installed, the Amplitude8 front panel complements the look of the Altitude32, creating a magnificent impression in your home theatre rack.
Specifications
AUDIO POWER
---
Power Output (8Ω, 20-20kHz 0.05% THD+N): 225 Watts RMS x8
Power Output (4Ω, 20-20kHz 0.05% THD+N): 375 Watts RMS x8
Power Output (2Ω, 20-20kHz 0.05% THD+N): 500 Watts RMS x 8
AUDIO PERFORMANCE
---
Frequency Response: +/- 0.5dB 0Hz to 20 kHz, load independent
Damping Factor: > 6000 at 100 Hz, > 2000 20Hz to 20 kHz
Signal to noise ratio: 125dB Referenced To Rated Output (A-Weighted)
Crosstalk: < 85 dB
AUDIO INPUTS & OUTPUTS
---
Input Connectors: 1x Balanced (XLR) per channel
Input Polarity: Pin 2 +ve, Pin3 -ve ( for non-inverting output)
Input Impedance: 47 kΩ, each phase
Input Sensitivity: 6.15V (+18dBu) RMS balanced in = 225W into 8Ω out
Output Connectors: 1x 5 way binding post per channel
POWER SUPPLY
---
Power Requirement: 2x 117V / 230V 50/60 Hz AC
Power Consumption: <1W Standby, <80W idle, Max 1,8kW x2 full load
Mains Fuse: 15A (117V) / 8A (230V) both slow blow
12V Trigger: 1x in, 1x out (mini-jack TS)
WEIGHTS & DIMENSIONS
---
Dimensions (W x H x D) mm: 443 x 186.5 x 502 mm
Dimensions (W x H x D) inches: 17 3/4″ x 7 11/32″ x 19 3/4″
Shipping box dimensions (W x H x D) cm: 70 x 61 x 38
Weight: 48 Kg / 106 lbs
Shipping weight / volume: 59kg / 0.162 M3