The AP9TBKit from AC Infinity is an ultra-quiet fan system is designed to cool home theatres, entertainment centres, and audio video cabinets. Features a speed controller and 6 foot power cord. Included fans use a custom motor engineered to minimise noise during speed variations and are certified by CE, UL, TUV, and RoHS. Containing dual ball bearings rated at 67,000 hours, the unit can be mounted in any direction.
Features a CNC machined aluminum frame with a modern brushed black finish. Fans are set to exhaust air out the frame but this can be reversed to intake air using a screw driver. Includes all necessary hardware to easily mount the unit onto a cabinet and power it through an USB port or standard wall outlet.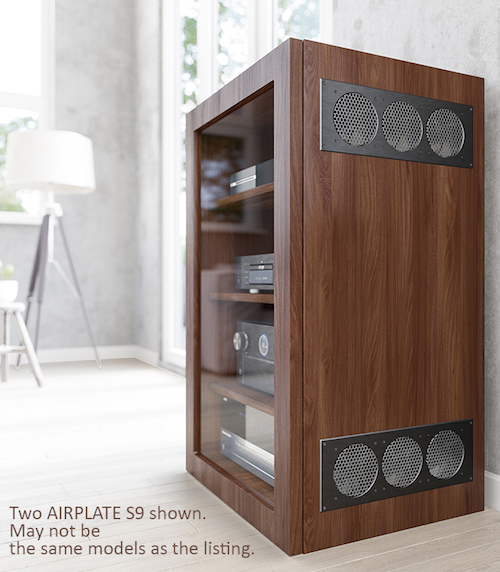 Speed Controller and Boost Adapter
The in-line multi-speed controller with power switch on the AC Infinity AP9TBKit allows setting the fan's speed to optimal noise and airflow levels for various environments. The included Boost Adapter not only allows the fan to be powered through a wall outlet, but increases its performance by up to 25%.
Connecting Additional Units
For cabinets that requires more airflow, each unit can be connected to additional AIRPLATE S and T series cabinet fans. Up to four fans can share the same USB power source; and up to six fans can share the same thermal controller or wall outlet power source. AIRPLATE S7 contains two fans and AIRPLATE S9 contains three fans. All setups with more than four daisy-chained fans must have their inline speed controller set to high to prevent overload, e.g. two AIRPLATE S9 units daisy-chained together.
Applications
This ultra-quiet cooling system is popular in a variety of applications including home theatres, entertainment centres, and audio video cabinets; and smaller enclosures and racks holding computers, receivers, amplifiers, and other AV equipment.
Programming
The controller features an on-board processor with active temperature monitoring as well as intelligent programming that will automatically adjust fan speeds to respond to varying temperatures. Additional features includes an alarm system, display lock or off while programs are running, six fan speeds, three back-light settings, two buffer options, and power failure memory.
Compatibility
The Controller 2 for the AC Infinity AP9TBKit can power up to 10 watts worth of AC Infinity AIRPLATE and MULTIFAN Series fans. This is approximately six fans but please note that some models contains more than one fan. For example, dual fan systems such as the AIRPLATE S7 or MULTIFAN S5 contains two fans. The controller would only be able to power up to three of these models for a total of six fans. Other 5V USB fans can be compatible but may not be fully functional with the speed control feature.
Features
An ultra-quiet fan system designed for cooling cabinets that requires minimal noise.
Features a multi-speed controller to set the fan's speed to optimal noise and airflow levels.
Contains a CNC machined aluminum frame with a modern brushed black finish.
Powered by wall outlet or USB port, included Turbo Wall Adapter increases performance by 25%.
Dimensions: 17.5 x 6.1 x 1.3 in. | Total Airflow: 156 CFM | Total Noise: 21 dBA
Intelligent thermal fan controller with on-board processor and digital LCD display.
Controls up to six AC Infinity Cabinet and USB Fans, see below for compatibility.
Automated programming that self-adjusts cooling power in response to changing temperatures.
Features an alarm system, display lock, six fan speeds, two buffer options, and power failure memory.
Includes precision thermal probe, mounting screws, and power wall adapter