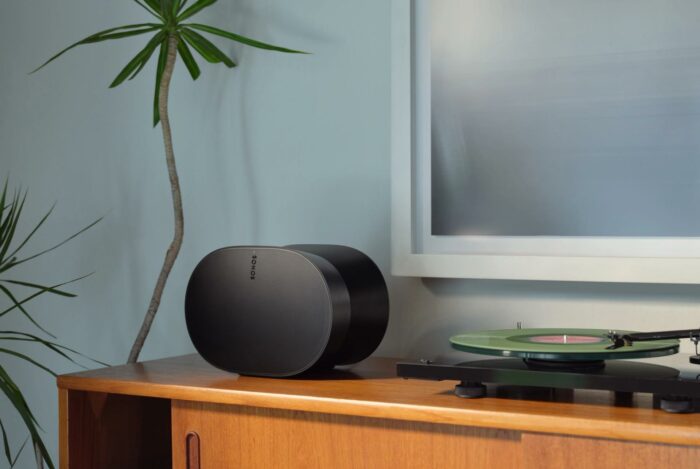 The Era 300 is designed to showcase spatial audio and Dolby Atmos by producing immersive, room-filling sound. The speaker's size falls in between the current Sonos One and Sonos Five. It includes a total of six drivers that direct sound forward, left, right, and up. When used with either the Arc or Beam (Gen 2) as rear surrounds, a stereo pair of Era 300s will deliver immersive Atmos surround sound including upward-firing audio.
Both Era speakers will include Wi-Fi 6, Bluetooth 5.0, and support for AirPlay 2. Sonos will separately sell a line-in adapter for USB-C audio and a "combo adapter" for plugging in over ethernet; there's no built-in jack on either device.
The Era 300 and Era 100 will mark the first time that Sonos supports Trueplay tuning on Android phones. But unlike on iOS, it will be the speakers themselves doing the room analysis and sound optimisation using their built-in microphones. Internally, Sonos refers to this as "quick tuning," with the regular walk-around-the-room-with-your-phone still available as "advanced tuning" — and still exclusive to iPhone and iPad.