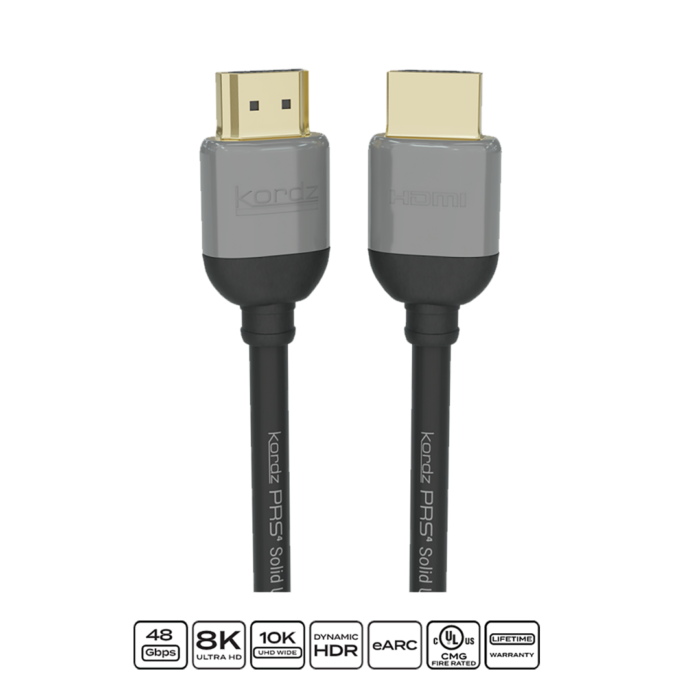 Kordz PRS4 Active Optical HDMI Cables are designed to meet the high demands and rigour of professional integration. The Kordz PRS4 range features cables that are compact, tough and flexible with a 2Kg retention force die-cast connector. Kordz PRS4 HDMI Active Optical Cables support the full features and benefits of the latest HDMI technology when using 4K HFR or 8K devices.
Key Features
Ultra High Speed Certified
48Gbps support for 8K/10K, HDR, VRR, HFR, 3D, FRL
Robust engineering and construction with premium materials
15μ" gold-plated solid copper pins
Compact connector with full internal zinc-alloy diecast housing
Easy installation aided by the unique Kordz shark-nose dust-cap
Convenient easy tear bulk packaging minimising waste on site
UL CMG rating
High contrast detailed labelling with inventory management design
Backed by the Kordz Lifetime Guarantee
Available in 10m, 15m, 20m,
HDMI 2.1 Specification
HDMI® Specification 2.1 is the most recent update of the HDMI specification and supports a range of higher video resolutions and refresh rates including 8K60 and 4K120, and resolutions up to 10K. Dynamic HDR formats are also supported, and bandwidth capability is increased up to 48Gbps.
Supporting the 48Gbps bandwidth is the new Ultra High Speed HDMI Cable. The cable ensures ultra high-bandwidth dependent features are delivered including uncompressed 8K video with HDR. It features exceptionally low EMI (electro-magnetic interference) which reduces interference with nearby wireless devices. The cable is backwards compatible and can be used with the existing installed base of HDMI devices.

8K delivers a super-immersive viewing experience with 2x the horizontal and vertical resolution of 4K, and 4 times as many pixels; and combined with 60Hz refresh rate enables smooth and sharp viewing of content with high-speed action. 4K@120Hz enables ultra-fast motion UHD images to be crisp and razor sharp; and sports, action movies, high-performance gaming and VR benefit significantly.