In every home, there is a space that is perfect for entertaining. Whether you plan to have guests over for dinner, are looking forward to your next movie night, or simply want to incorporate luxury seating into your living spaces, you'll find that Row One Kingsley seating offers the solutions you have in mind.
The all new Kingsley Series offers new and improved features that add another level of comfort, along with electronics for optimal home theatre enjoyment.
The range offers the advantage of premium leather and Lux Coil spring seating and padded footrest.
A new three individual motors design now gives full comfort settings for head, leg and new lumbar support, giving the user full control of their comfort. New on touch close function allows the seat to go back to the original position ready for your next movie viewing.
The Row One brand is known for its innovative, technology-driven designs, and that's why adding Row One seating in your home will create the ideal space for getting away, relaxing, and enjoying home entertainment at its finest. With love seats, chairs, sectionals, and traditional theatre rows to choose from, there is no need to settle for seating that doesn't match your requirements. You'll also find that Row One seats come in a variety of fabric, leather and colour options, making it easy to incorporate with your current home décor.
ROW ONE KINGSLEY THEATRE CHAIRS
Row One theatre chairs won't disappoint with their many different configurable arrangements.
Whether you have a small home theatre or a dedicated space for all types of entertaining, having the right luxury home cinema seating can make a big difference in your space. If you are ready to create a home theatre with a unique seating experience, then Row One Kingsley theatre chairs offer all the possibilities you can imagine.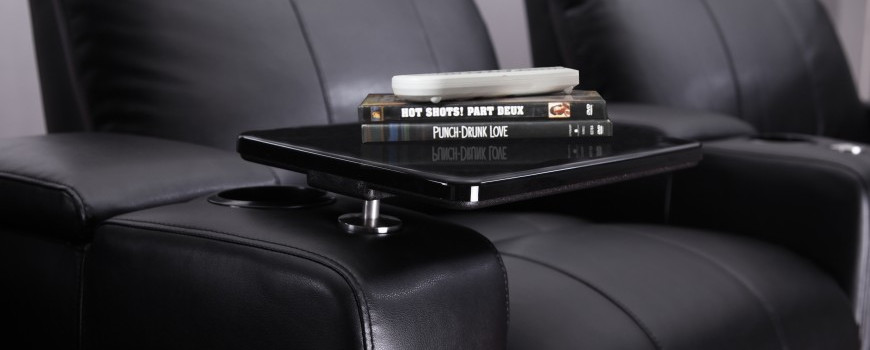 Configurable
As you build your home entertainment space, it's important that your theatre seating fits your room well. Row One won't disappoint with many different configurable arrangements, including everything from single, manual recliners to motion sofa and motion love seat formations. Single seating options range in width from 920mm to 960mm.
Comfort
Row One theatre chairs also offer the best of both comfort and style. Not only can you easily match your preferred theatre chairs to your home décor, but you can also choose the fabrics, leather, or gel seating that makes your home entertainment space truly comfortable. The minutest details are what make your Row One theatre chairs the best choice, from the electric headrest to the ability to recline into your favourite position.
Custom
 It wouldn't be Row One if you couldn't customise your theatre chairs to your space and your home theatre needs. With these theatre chairs, you can enjoy high-quality home furnishings that make your theatre room look and sound its best. Single, Double, Triple, Quad or even 5 seats; love seats; straight or curved configurations – it is all possible.
Row One Kingsley Series Standard Features
3 Individual motors for Head, Lumber & Leg for optimal comfort
Dual USB charging ports
Touch-Sensitive refrigerated LED Cupholders
Separate switch controls lighted base-rail
LuxCoil® spring seating with Chaise padded footrest
Armrest storage, complete with tray table
Near-the-wall Power Recline
One Touch Close
Ganging devices installed to lock the chairs together
Warranty: 5 Years on Frame, 3 Years on Recline Mechanism,
1 Year Electrical and Material Coverings
Row One Kingsley seats use Top Grain Leather for all parts of the seat except the sides and back which are split leather. What is split leather? It is basically used for the sides and back of the chair where the important tactile feeling is not required.
A Google explanation is… All leather hides have to be split because a hide is too thick to upholster or use in any type of manufacturing. The hide goes into a machine where a blade 'splits' the hide into two layers. The bottom layer is known as Split Leather and the top portion of the above process is known as Top Grain Leather.