The ElectroMotion ESL X features a new larger XStat™ electrostatic transducer, with a radiating area over 50in2 larger than the EM-ESL model. Twin 8-inch high-excursion woofers are housed in a non-resonant asymmetrical bass reflex (ported) chamber, in a surprisingly compact enclosure. Woofers have custom engineered high-rigidity paper cones, with extended-throw driver assemblies. Component elements within the EM-ESL X replicate the design and performance of components used on many of MartinLogan's more expensive loudspeakers, such as custom-wound transformers, air-core coils, large steel laminate inductors, polyester and low DF electrolytic capacitors. Custom 5-way bi-wire binding posts allow for secure wire connections. System Frequency Response is 41–22,000 Hz ±3db. Recommended amplifier power is 20–400 watts per channel. Impedance is rated at 6 ohms (1.6 ohms at 20 kHz); the EM-ESL X is compatible with 4, 6, or 8 ohm rated amplifiers.
A unique XStat™ transducer was developed for the ElectroMotion Series to reduce the gauge thickness of the electrostatic panel's steel stators. The reduced gauge does not alter the performance characteristics of the panel. However, as a natural byproduct of tighter build tolerances, it does increase the visual transparency of the panel. The EM-ESL X's XStat panel is so visually transparent it nearly vanishes when you're sitting and listening.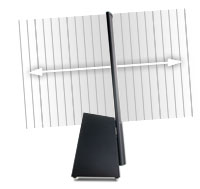 Controlled Dispersion Sound Radiation
Another key attribute of the ElectroMotion ESL X is its naturally dipolar radiation pattern. A true dipole, The EM-ESL X radiates sound with equal intensity from the front and back of its diaphragm, but the outputs are in opposite phase. As a result, sound waves rippling out toward the sides meet at the speaker's edge and cancel. That and the relatively large size of the ElectroMotion ESL X's electrostatic panel cause output at the sides to be very low relative to that of a conventional loudspeaker, which in turn minimizes side-wall reflections that tend to muddle sonic detail and stereo imaging. While the reduction in output to the sides contributes to the astonishing clarity for which electrostats are revered, the energy reflected off the wall behind the speaker opens up and deepens the sound.