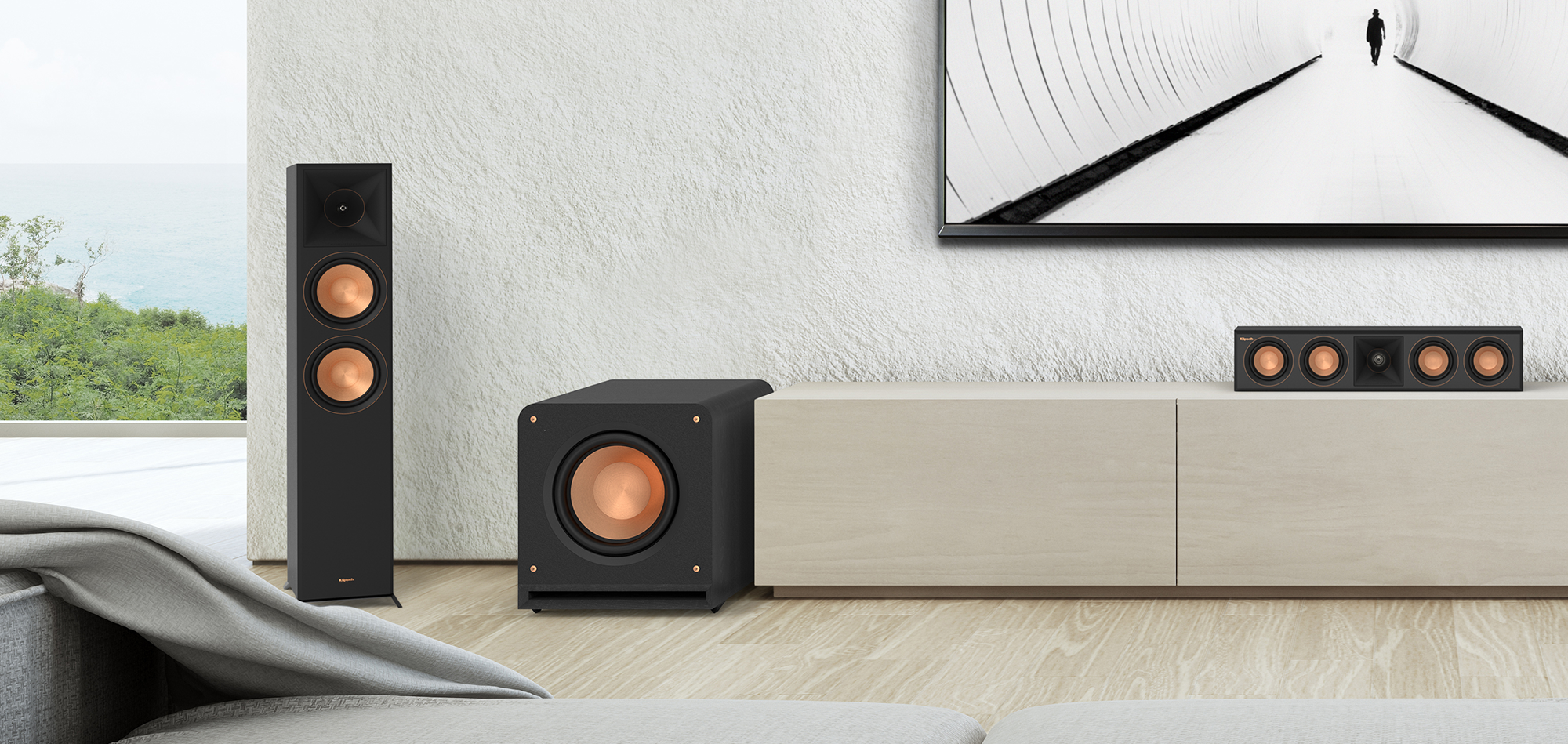 Maximise the bass response of your home theatre by adding the Reference Premiere RP-1200SW 12″ 800W Subwoofer from Klipsch. It maximises the low-end sound with a balanced construction that efficiently combines a 12″ spun copper Cerametallic woofer, high-efficiency Class-D amplifier, and solid MDF cabinet. The result is 400W RMS (800W peak) of rumbling power.
Spun Copper Front-Firing Cerametallic Woofer
The Cerametallic woofer is both light and rigid, which is meant to produce exceptional bass response with minimal cone breakup and distortion, for cleaner output that uses less amplifier power.
Class-D Amplifier
With an analog preamp design, the original signal path is maintained for a clean, true-to-source sound reproduction. The Class-D stage of the built-in amp maximises output, sonic detail, and low-end power.
Minimal Port Noise
To drastically reduce port noise for a clean, undistorted sound, Klipsch incorporated a proprietary internal construction that features a front-firing Aerofoil slot design. This also allows for greater flexibility in placement.
Wireless Capable
Out of the box, the RP-1200SW connects to your system via an RCA/LFE input, but wireless convenience is possible with an optional Klipsch WA-2 wireless subwoofer kit. Sold separately, this kit provides complete freedom in subwoofer placement and works to allow a high-resolution connection for optimised bass output.
Use Both Inputs Simultaneously
With the optional WA-2 wireless kit installed, you can also use the built-in RCA input simultaneously across two different systems. So, you can connect your home theatre wirelessly, and a 2-channel audio system via RCA. Both systems in the room can then use the RP-1200SW without you having to switch inputs.
Flexible Tuning
A low-pass crossover and variable phase control let you tune the RP-1200SW to your other Klipsch speakers and your home theatre room.
1/2-Watt Standby
To conserve energy and reduce costs, the RP-1200W uses only 0.5W when in standby mode.
Durable Finish
The ebony black vinyl finish covers the entire body of the MDF cabinet and provides scratch resistance.