Key Features
The successor to the popular RX-V685
7.2 Channel High Slew Rate Surround Amplifier
Brand new look and interface
100W Power Per Channel (8 Ohms, 20Hz – 20kHz, 0.06% THD)
3x Analogue RCA, 1x Optical, 1x Digital Coax Audio Inputs
7x HDMI Inputs (3x 8K@60Hz Signal Strength)
Dolby Atmos / Zone 2 Compatible
Atmos Height Virtualisation
FM & DAB+ Radio
MusicCast & Airplay 2
Pure Direct mode
YPAO Setup Mic with R.S.C + Multi-Point
Wireless Surround Support
Dual Subwoofer Outputs
Web Setup / Control 4 Driver
For more information see Yamaha Australia
Impressive and Powerful Design Concept
One of the first things you'll notice about the brand-new RX-V6A receiver is the new design. Yamaha's bold streamlined chassis emanates the key aspects of Home Entertainment Control. The iconic design with refined aggression focuses on performance and seamless accessibility. A harmony that exudes elegance, function and supremacy in construction.
HDR10+, 8K/60Hz, 4K/120Hz
HDR10+ signals not only enables dynamic video content created on a scene-by-scene basis, it also carries a series of embedded pieces of 'metadata', that helps to detail the scenes actual light and dark characteristics ensuring that the most critically fine detail can remain. This enables displays to reproduce images more realistically, adhering to the creator's intent.
Supports end-to-end 8K/4K resolutions and higher refresh rate solutions with a single upgraded cable for seamless integration within the HDMI ecosystem. 8K delivers a super-immersive viewing experience with 2x the horizontal and vertical resolution of 4K, and 4 times as many pixels; and combined with 60Hz refresh rate enables smooth and sharp viewing of content with high-speed action.
4K/120Hz enables ultra-fast motion UHD images to be crisp and razor-sharp; allowing sports, action movies, high-performance gaming and VR to benefit significantly.
Advantage of High Slew Rate Amplifier
Generates highly precise signal transmission, and ensures faithful and accurate reproduction of the source making it especially suitable for high-resolution audio signals. Yamaha's newly designed circuit achieves both high slew rate and stable signal transmission.
Slew Rate: The rate of how quickly an amplifier can respond to a rapid change of input level.
Gaming-dedicated Function
Enhanced gaming and media features ensure an added level of smooth and seamless motion and transitions for gaming, movies and video. These include:
Auto Low Latency Mode (ALLM) to enable the ideal latency setting to automatically be set allowing for smooth, lag-free and uninterrupted viewing and interactivity.
Variable Refresh Rate (VRR) reduces lag, stutter and frame tearing for more fluid and detailed gameplay.
Quick Media Switching (QMS) for movies and video eliminates the delay that can result in blank frames before content is displayed. Quick Frame Transport (QFT) reduces latency for smoother no-lag gaming and real-time interactive virtual reality.
YPAO
YPAO (Yamaha Parametric room Acoustic Optimiser) analyses the room acoustics and your system, then precisely adjusts various audio parameters to provide the best sound for your room.
Simply by placing the supplied microphone at your listening position and switching YPAO on, the system is automatically calibrated for optimum performance in your specific room and speaker configuration.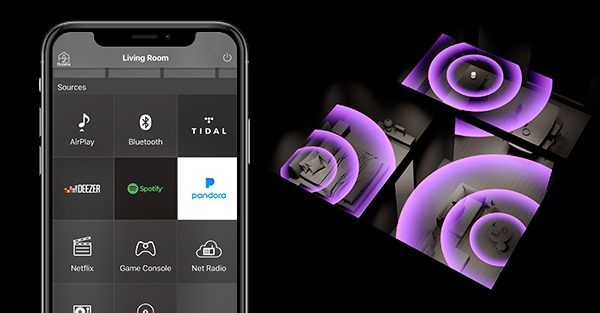 MusicCast – Multi-room Audio
Use your smartphone or tablet together with the MusicCast CONTROLLER app to operate the AVR and change settings quickly and easily. The same Controller app functions as a remote control for all your MusicCast-compatible devices as well as full multi-room audio controls.
Imagine sharing all the music you love throughout the home – no matter the format. From your favourite vinyl to AirPlay®, Bluetooth® to music streaming services* and even sound from your TV, MusicCast has it covered.
Additionally, all MusicCast products are designed with sound quality at the front of mind. High-res formats including Apple Lossless (ALAC) up to 96 kHz, WAV, FLAC and AIFF up to 192 kHz are supported.
HDMI eARC
Unlock the full potential of your 4K content. Enhanced Audio Return Channel (also known as eARC) is the next generation of ARC – available in the industry-leading AV receivers from Yamaha.
eARC delivers full-resolution, multi-channel audio formats such as Dolby® TrueHD and DTS-HD® through your existing HDMI connection, giving you the most realistic surround sound experience for immersing yourself in your favourite movies and moments.
Zone2
Featuring Zone2 compatible speaker terminals, this system can send the same (or even different) AV contents playing in the main room for playback in another room. For example, if you have speakers installed in your bedroom or kitchen, you can go to that other room and enjoy listening to the same or different main room content.
Phono
This AV receiver provides dedicated phono input terminals, letting you connect a turntable and enjoy music from your vinyl collection.