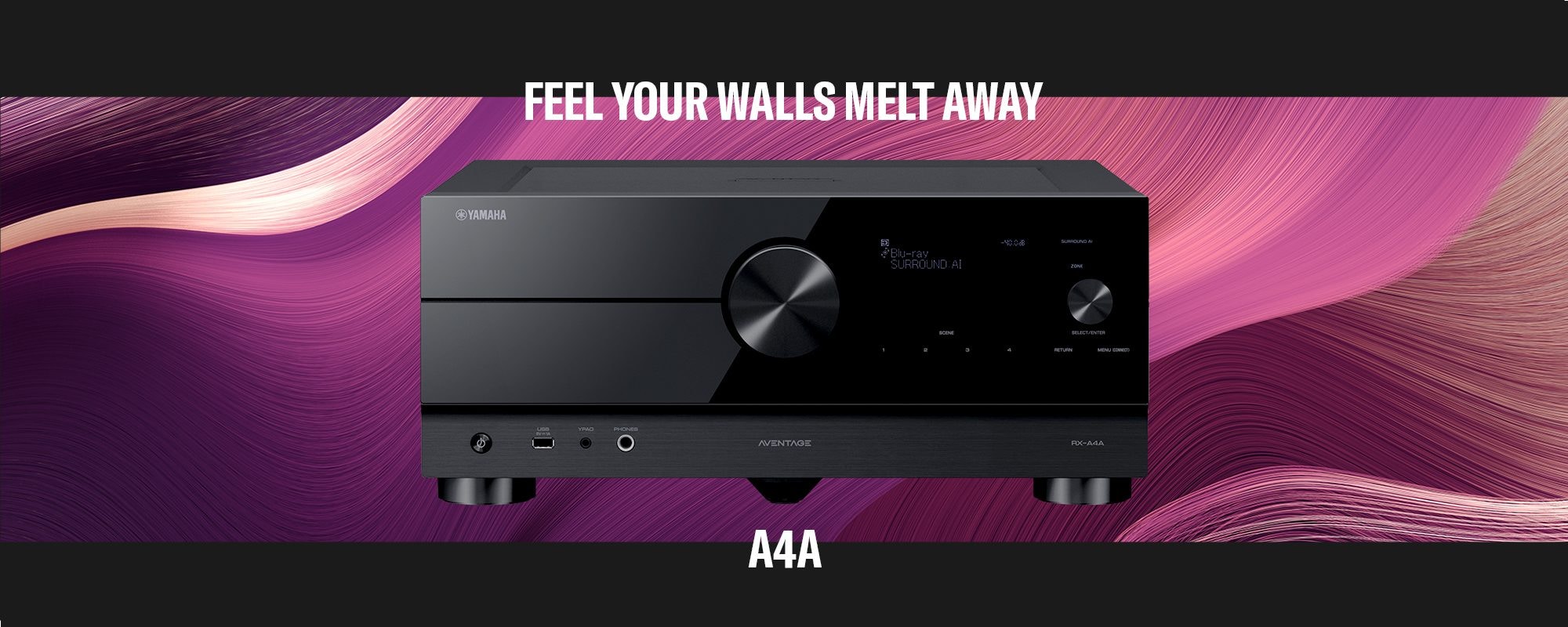 Key Features:
7.2 Channel powerful surround sound with Zone2
110W power output per channel
High slew rate amplifier for responsive, explosive sound
SURROUND:AI automatically optimises the surround effect in real-time
Wi-Fi, Bluetooth, Airplay 2, streaming services and MusicCast multi-room audio built-in
Dolby Atmos and DTS:X with CINEMA DSP HD3
HDMI 7 in/3 out, 8K/60Hz, 4K/120Hz, HDR10+ via firmware update
Dedicated gaming function (ALLM, VRR, QMS, QFT) via firmware update
ESS SABRE ES9007S Premier Audio DAC for high-performance conversion
Qualcomm® QCS407 chip is designed to provide truly superior audio performance
Voice control with Alexa and Google Assistant devices
MusicCast Surround capable – add MusicCast 20 or MusicCast 50 speakers to create wireless surround sound
YPAO™-R.S.C. with multi-point measurement, precision EQ and low-frequency mode
Phono input for turntable
Anti Resonance Technology (A.R.T.) Wedge dampens vibrations
Dolby Atmos® and Dolby Atmos Height Virtualisation*
Feel every dimension in Dolby Atmos. Enjoy a 5.1 surround speaker system and two additional overhead speakers or two Dolby Atmos elevation speakers, delivering dramatic overhead effects for truly enveloping audio.
For those without in-ceiling or upward firing speakers in their system, Dolby Atmos Height Virtualisation* technology can simulate the Atmos experience. Configure up to five speakers to replicate the effect of two in-ceiling speakers, or utilise all seven channels to simulate the powerful effect of four overhead speakers.
* Dolby Atmos Height Virtualisation is available via a future update
DTS:X®
DTS:X immersive audio formatting places sound where it would naturally occur in space, creating life-like, multi-dimensional audio. The included spatial remapping engine of DTS Neural:X™ offers improved immersion and heightened realism in all your favourite movies.
CINEMA DSP 3D for Movie, Music and Game
This unique Yamaha proprietary sound field creation technology, was created by combining measured sound field data with digital signal processing. Yamaha collected sound field data from famous concert halls and music clubs around the world, utilising its wealth of experience in the fields of concert hall design, public address and mixing. By digitising this vast trove of information and incorporating it into dedicated LSI devices, it effectively reproduces the spaces of concert halls and music clubs in your home. Immerse yourself in the astounding realism of your movies, and enter a world of profound theatre sound.
High Slew Rate Amplifier
The slew rate measures how quickly an amplifier can respond to a rapid change of input level, which contributes to delivering a precise signal transmission and is especially effective with high resolution audio signals. This newly designed circuit achieves both a high slew rate and stable signal transmission, allowing it to handle each audio signal with precision and accuracy.
4K120AB*, 8K60B* and 4K60
Supports end-to-end 8K/4K resolutions and higher refresh rate solutions with a single upgraded cable for seamless integration within the HDMI eco-system. 8K delivers a super-immersive viewing experience with 2x the horizontal and vertical resolution of 4K, and 4 times as many pixels; and combined with 60Hz refresh rate enables smooth and sharp viewing of content with high-speed action. 4K120 enables ultra-fast motion UHD images to be crisp and razor sharp; allowing sports, action movies, high-performance gaming and VR to benefit significantly. It also supports Dolby Vision™ and Hybrid Log-Gamma.
* 4K120AB and 8K60B are available via a future update
Enhanced Media and Gaming (ALLM, VRR, QMS, QFT)*
Enhanced media and gaming features ensure an added level of smooth and seamless motion and transitions for gaming, movies and video. They include: Auto Low Latency Mode (ALLM), which enables the ideal latency setting to automatically be set allowing for smooth, lag-free and uninterrupted viewing and interactivity; Variable Refresh Rate (VRR) reduces or eliminates lag, stutter and frame tearing for more fluid and detailed gameplay; Quick Media Switching (QMS) for movies and video eliminates the delay that can result in blank frames before content is displayed; and Quick Frame Transport (QFT), which reduces latency for smoother, no-lag gaming and real-time interactive virtual reality.
* These features are available via a future update
SURROUND:AI™
AI technology built into the DSP analyses the scene of the entertainment content and then creates the optimal surround effect to reproduce it with the ultimate impact. This AI instantaneously analyses scenes by focusing on distinct sound elements such as dialogue, background music, ambient sounds and sound effects, and automatically optimises the surround effect in real time. Imagine having a Yamaha sound engineer right there whilst you're listening, tuning the best sound live and specifically for you. AI technology creates a compelling sense of realism with expressive power beyond conventional sound field effects, giving you the most profound entertainment experience possible. Qualcomm® QCS407 with 64-bit high precision processing delivers precise surround sound.
Zone 2
Featuring Zone 2 compatible speaker terminals, this system can send the same (or even different) AV source playing in the main room for playback in another room. For example, if you have speakers installed in your bedroom, kitchen or patio, you can go to that other room and enjoy listening to the same or different main room content.