Lumina collection is the new Sonus faber line conceived on the notion that it is important to savour time for ourselves and celebrate life's precious moments. In today's world, we have come to fully appreciate our living spaces where these moments come to life. Their commitment is to deliver a luxury music experience in all Sonus faber homes, which is facilitated through their longstanding tradition of refined materials and careful craftsmanship.
LESS IS MORE
They executed this minimalistic and perfectly squared design in order to emphasise the quality of materials used. This principal of minimalism directly captures the essence of the product, which was thoughtfully designed in conjunction with the theory "less is more".
Lumina collection comprises the core values of Sonus faber and its iconic materials, such as real multilayer wood, leather and the natural composition of drivers.
Simplicity remains central to the collection's identity with its easy set-up, accessible price point, and excellent sound performance, empowering everyone to enjoy a true Sonus faber experience completely made in Italy.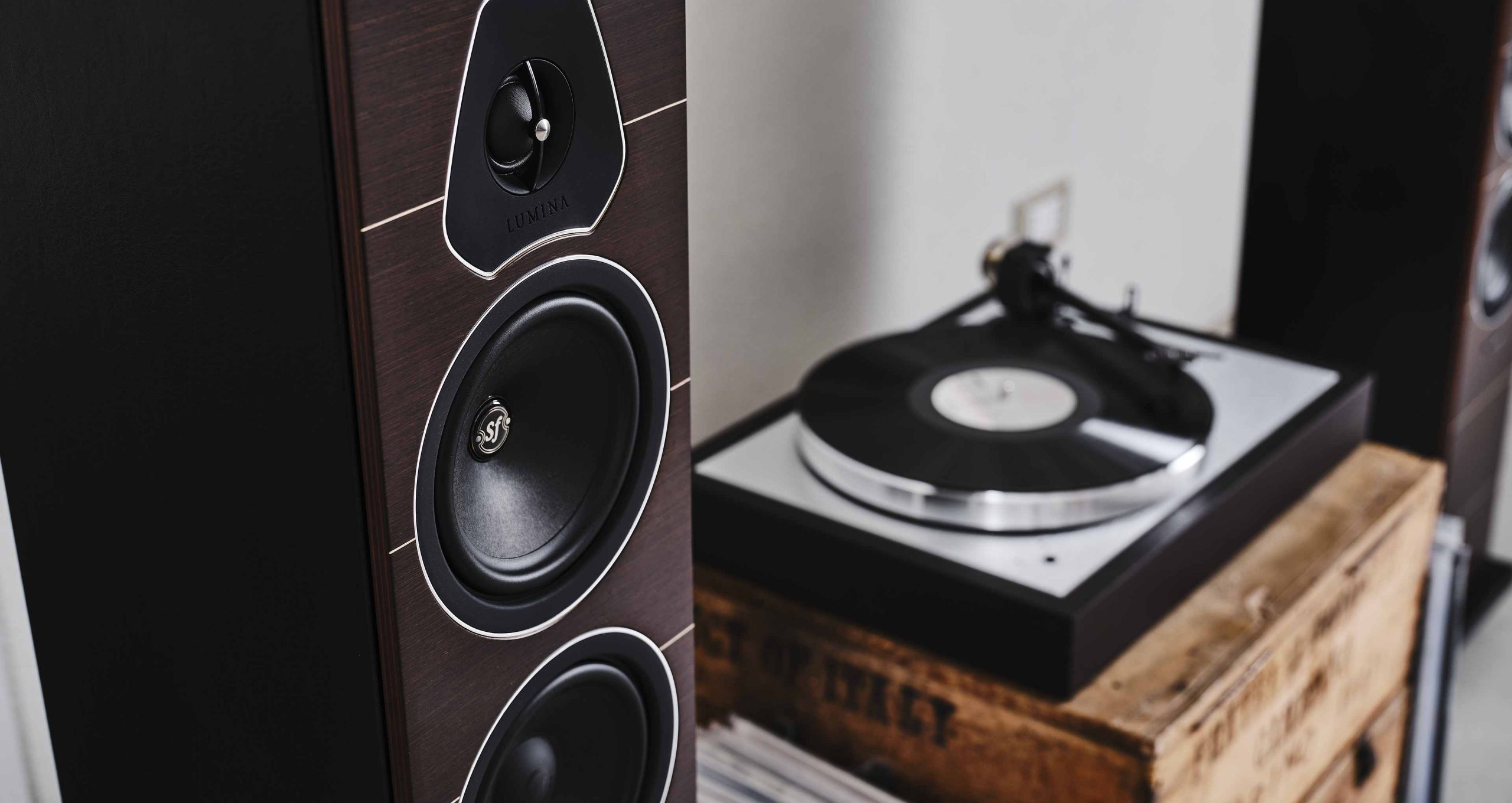 TWEETER
The iconic D.A.D. (Damped Apex Dome™) tweeter, the same used in the Sonetto series, features a Kurtmueller hand coated soft silk diaphragm of 29mm. The chrome rings around the drivers highlight shapes and proportions. This gives brightness to the front baffle while outlining the Voice of Sonus faber.
MIDRANGE
The 5" midrange is coming from the bigger sisters Sonetto and it features our proprietary natural fibre and paper blend air-dried diaphragm.
WOOFER
The 5'' woofers were designed from the scratch for this line and feature paper pulp cone as well, for a perfect sonic coherence with the rest for the drivers.
REFLEX PORT
The reflex port gives additional versatility for the models' range: on the floor stander it's placed on the base, down firing. Thanks to this solution, Lumina III speaker is significantly less sensitive to its placement, allowing sound excellence even when placed close to a backwall. It can be placed wherever you want always enjoying a great performance and listening experience.
THE MULTILAYER WOOD FRONT BAFFLE
Among the materials selected for this line what stands out is the Lumina's multilayer wood of the front baffle and the real wood veneer, available in iconic premium finishes including walnut and wenge, both in matte finish with maple inlays, with a third option available in piano black. All other surfaces of the cabinet are hand covered in our iconic black leather.
TERMINALS
Lumina's are provided with two pairs of nickel-plated terminals, allowing for an upgrade experience provided by bi-wiring and bi-amping.