All new 13-Inch SVS High Output Driver
The all-new 13-inch high-excursion SVS driver with 25 lb. (~11kg) dual toroidal magnet motor in the SVS SB-3000 delivers punishing low frequency output, while maintaining crisp speed in transients by stopping and starting on a dime. Aluminium vented cone with exceptional stiffness to mass ratio and a proprietary injection-moulded extreme-excursion surround ensure flawless pistonic motion for room-filling bass response with pinpoint control and accuracy.
Powerful and Sophisticated Sledge STA-800D Amplifier
800 watts RMS, 2,500+ watts peak power Sledge STA-800D2 amplifier with fully discrete MOSFET maximises the full potential of the 13-inch driver with effortless power and absolute control. The innovative design combines the efficiency of a Class D amplifier with the ability to move colossal amounts of current through the fully discrete MOSFETs for outstanding real-world subwoofer performance in any system at all drive levels. Features sophisticated 50Mhz High Resolution Analog Devices audio DSP for pristine sound quality through advanced in-room tuning, optimised frequency response curves, DSP controls and more.
SB-3000 Smartphone App – Easiest Way Ever to Manage Subwoofer DSP and Control.
3000 Series subwoofer app is the most convenient way ever to control volume, access multiple DSP functions and program custom presets for one-touch tuning optimised for music, movies, gaming, and more. Adjust crossover frequencies, a three-band parametric EQ, polarity, room gain and more, all from your favourite seat.
The SVS subwoofer app also allows advanced customisation so you can name your subwoofer for easy preset switching, choose the subwoofer standby mode and reset the subwoofer to factory settings. Bluetooth connectivity allows full control, even when the subwoofer is out of sight and bi-directional feedback shows adjustments in real time on both the app and rear panel subwoofer interface.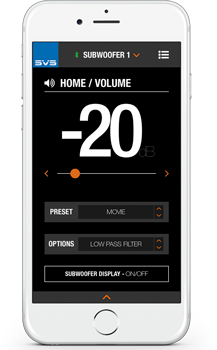 3 custom presets can be saved for movies, music and more so you have one-touch tuning optimised for your listening preferences.
2-way feedback shows updates in real time on both the app and rear panel subwoofer interface.
Connects via Bluetooth for convenient control even when subwoofer is out of sight.
3-band parametric EQ controller allows precise adjustments for frequency slope and Q factor down to the single Hz level with four different slopes, so users can improve performance by eliminating peaks, nulls and other room issues.